Kindle Storyteller Award Announces Winner
The winner of Kindle Storyteller Award is The Relic Hunters by David Leadbeater. The Relic Hunters, a novel packed with camaraderie, action, archaeological mysteries and a brand-new team of hard-hitting, entertaining and highly engaging characters.
Guy Bodie is a relic smuggler, a tough man in a tough world, with self-taught skills in smuggling and combat. He trusts only five people, a proven team, until one of them betrays him, landing him in a hellish Mexican prison. Guy Bodie's chances of survival are diminishing by the minute.
To his surprise, the American CIA then break him out, tell him to hand-pick a team, and start right back at his old job – only this time he's working for them – chasing down the most infamous relics in history and trying to solve the greatest heist – how one of the world's seven ancient wonders was once stolen and then concealed.
With thrilling action across the globe, The Relic Hunters begins a new series in the Matt Drake vein of archaeological mystery, historical adventures and team camaraderie.
David Leadbeater is the author of twenty one Kindle International Bestsellers. He has sold over half a million e-books on the Amazon Kindle. He lives in the city of York, U.K., and is married with two beautiful daughters. He is currently researching and writing Matt Drake 13 and the stand-alone Torsten Dahl novel for a 2016 release. His major influences include Joss Whedon, Robert Crais, Andy McDermott and horror writer, Graham Masterton.
I read a lot and it inspired me to pen to paper. It felt amazing to shortlisted for Storyteller, I never imagined I would get the opportunity. To win is a dream come true.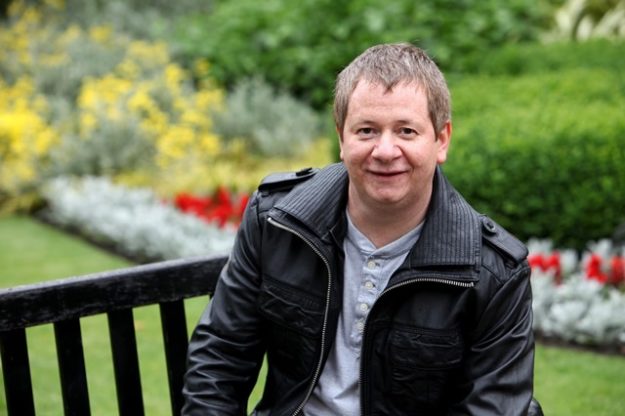 Image copyright of Love Suspense
Check out the most reviewed entries below for The Kindle Storyteller Award or see the full list of books here.
The Note
A CSI Eddie Collins Short Story
By Eddie Barrett
Eddie Barrett writes crime thrillers, and have done since 1996, about the same time I became a CSI here in Yorkshire. All of my books are set in or around our biggest city of Leeds. If you like fast-paced crime thrillers with a forensic slant, raw emotions, and characters that reach out of the book and grab you by the throat, you'll love Andrew Barrett's CSI Eddie Collins series.
Remember Me
The gripping psychological thriller with a jaw-dropping twist
Lynda Renham's writing will appeal to readers of Susan Lewis books but with more of a thriller edge. She is famous for her romantic comedy novels having written over twelve popular titles. Lynda lives in Oxford, is a prolific writer, blogger and when not writing can usually be found wasting her time on Facebook.
Differently Normal
By Tammy Robinson
Differently Normal is a spellbinding story of love that will leave you breathless.
The Housekeeper
(The Greek Island Series Book 6)
By Sara Alexi
The Housekeeper is a tale of love and heartbreak, taking us back in time to the idyllic Greek island of Orino, where the secrets and ill-fated love of one young woman are relived in a bid to save another from the same mistakes.
THE FALL
SAS hero turns Manchester hitman (A Rick Fuller Thriller Book 3)
Robert White is an Amazon best selling crime fiction author. His published novels Dirty, The Fix and Unrest regularly appear in the top ten downloads in the Crime and Action and Adventure genres. Robert is an ex cop, who captures the brutality of northern British streets in his work. He combines believable characters, slick plots and vivid dialogue to immerse the reader in his fast paced story-lines.
Walk On By
DI Ted Darling Book 7
By L M Krier
Retired journalist, freelance copywriter and copy editor Lesley Tither writes under various pen names for different genres. Already well known for travel memoirs as Tottie Limejuice, Lesley also writes crime fiction under the name L. M. Krier. Walk On By is a compelling, character-led police procedural crime thriller with a distinctly different type of detective in the lead role.
Ghostface Killer
By M Never
Ghostface Killer is a romantic suspense with dark elements. Reader discretion is advised.
Descent
A Kate Redman Mystery Novella (The Kate Redman Mysteries)
By Celina Grace
Celina Grace was born sometime towards the end of the last century and wrote her first story, The Blue Ruby, at the age of seven. Although this early masterpiece was inexplicably ignored by the literary establishment, Celina persevered with her craft and a mere thirty-something years later, writes full time as the author of The Kate Redman Mysteries, The Asharton Manor Mysteries and various standalone psychological thrillers.
Bully Boy Blue
A dark psychological suspense novella
By John Nicholl
John Nicholl, an ex police officer, child protection social worker and lecturer, has written three dark psychological suspense thrillers, each of which have been Amazon international bestsellers. Bully Boy Blue is a gripping page-turner of a psychological thriller packed with suspense.
Thicker Than Blood
Adrian Hell #7 (Adrian Hell Series)
James P. Sumner lives in the north of England, with his wife, son, and hyperactive dog. He's wanted to be a writer for as long as he can remember, and he finally took up the pen in 2013, and began bringing Adrian Hell to life. Since then, each entry in the series has been an Amazon bestseller. Thicker Than Blood is the seventh gripping thriller in the bestselling Adrian Hell series. It offers a thought-provoking story, laced with explosive action and razor-sharp dialogue, that will keep you turning the pages as you race to the end.
Joyful Trouble
Based on the True Story of a Dog Enlisted in the Royal Navy
By Patricia Furstenberg
Patricia Furstenberg came to writing though reading, her passion for books being something she inherited from her parents. Joyful Trouble is a humorous read about an incredible dog and how he found his true, yet unexpected calling.
Losing Kyler
(The Kennedy Boys Book 2)
By Siobhan Davis
USA Today bestselling author Siobhan Davis writes emotionally intense young adult and new adult fiction with swoon-worthy romance, complex characters, and tons of unexpected plot twists and turns that will have you flipping the pages beyond bedtime! She is the author of the international bestselling True Calling, Saven, and Kennedy Boys series.
Books Awaiting Review:
Do you enjoy reading and talking about books? We are putting together a team of reviewers who are passionate about reading and sharing book reviews. Whether you are experienced in writing reviews, have a GoodReads account, or you just you enjoy reading and recommending books to others, we would love to hear from you!
Each review you write will be shared exclusively on our website for other book lovers to read. The top reviewer in our team who has written the most high-quality reviews will also receive a $100 Amazon gift-voucher and may even lead to a full-time paid book reviewer job.
Go to Book Reviewers Wanted to find out more.