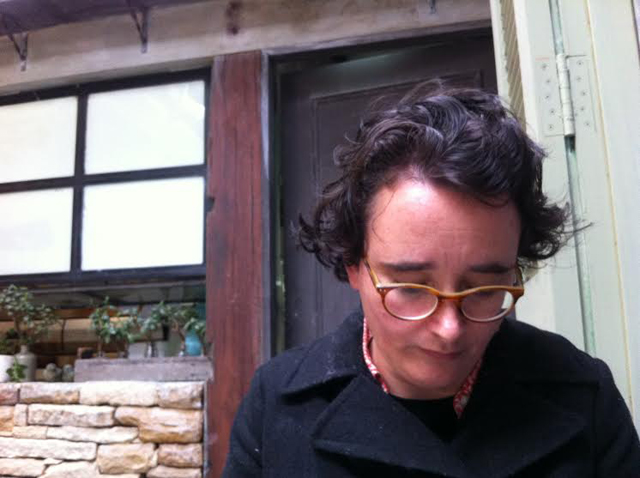 Yvette Walker is an Australian author who currently resides in Perth with her partner. Her debut novel Letters to the End of Love was published by University of Queensland Press in April 2013. It was shortlisted for the 2014 NSW Premier's Literary Awards. Yvette won a 2014 WA Premiers Book Award in the Emerging WA Writer category.
Could share a little bit of background about yourself, Yvette?
I'm the daughter of working-class parents of Irish Australian and English Australian descent. My Irish ancestors are from Enniskillen in Northern Ireland, my English ancestors are from Kent. I was born in Melbourne but the early part of my childhood was spent in the "nice" part of a working class suburb in Perth. I won't go into the Dickensian family story; suffice to say I ended up moving around with one parent or the other, and going to six different public high schools. Thank God that my brother was cut from the same cloth as me, while most teenagers we knew were more interested in the new AC/DC album and bottles of Jim Beam, my brother and I were discussing Tennessee Williams and Dennis Potter.
What got you into writing?
I didn't know it at the time; but my entire childhood was preparation for being a writer. I don't mean the life itself, I'm not a memoirist, but I gravitated to reading at a very early age and I have never left. At some point in my early twenties I decided to try my hand at writing. That decision lead to an awfully protracted gestation period of about a decade in which I flummoxed around both in life and in writing. It got to the point that the idea of being a writer had worn thin, and I needed to abandoned it or take the last step and commit myself to a novel. So I did, I wrote a novel.
Who are the major influences in your life?
My wife. She is a screenwriter and a film director, so she knows words inside out, and apart from that she has one of the most interesting minds I have ever met. She has taught me to believe in my work, and every time I want to abandon the self-imposed poverty of the working writer she just sits me back down at my desk and tells me to write. Many of my close friends are writers – some have known me for as long as I've been writing, others have come along thanks to the privileges of publication, that priceless reward of being able to meet those writers you have admired for so long. My brother, who is a now a well respected actor and Shakespearean director, he and I still wander in the same city of the mind. Then there are the people, for whatever reason, like to have you around and continue to do so through all sorts of catastrophes, through break-ups and changes of fashion and government.
Who are your major writing influences?
When I was a teenager, the writers who really got me started were Tennessee Williams, Randolph Stow, Graham Greene and Dennis Potter.
My major international influences would be W.G. Sebald, E.M. Forster, Virginia Woolf, Anne Michaels, Marilynne Robinson, Colm Tóibín, William Maxwell, Rabih Alameddine and Michael Chabon.
My major Australian influences are mostly contemporary: Charlotte Wood, Paddy O'Reilly, Inga Simpson, Amanda Curtin, Michelle de Kretser.
There are about fifty writers I've had to leave off of this list!
Given your close connections to both screen and stage do you think writing a screenplay is something you might like to try your hand at or are you happy being a novelist?
Oh my first instinct is to say no, no way, that looks like much harder graft than writing a novel! The screenwriter mind seems like a foreign country to a novelist, but there are great exceptions, the late Ruth Prawer Jhabvala springs to mind. I suspect I'm like a lot of film buffs, I think I could have done a better job than the screenwriter, but after seeing what my wife goes through to get a screenplay to where it needs to be, I think I will be content to eat my popcorn and enjoy the movie!
How did Letters to the End of Love come about?
I blame Leonard Cohen. I was listening to "Famous Blue Raincoat" – It's four in the morning / The end of December / I'm writing you now just to see if you're better – and I got hooked on the idea that he had written a song in the form of the letter. I liked what the structure did to the song, to the way that the story was told. I began to wonder if I could write a novel made up of love letters. I knew I wanted to write a book about ordinary people who had lived through political oppression, I wanted to write about their lovers and their families, and this seemed a way to do that.
Would I be right in thinking that some of the experiences in the book seemed close to home, do they reflect experiences in your own life?
Some of my own grief is embedded in the story, sure. I guess the contemporary lesbian characters reflect some of my experiences as a gay woman living in the twenty-first century. I think the character I most relate to is Dmitri, someone who is naturally poetic but who feels emotionally locked up in some fundamental way.
Can you talk about the research you undertook in regard to the historical accounts in the book?
Thank God for librarians, archivists, and the kindness of strangers. I spent two weeks in West Cork, bothering the locals. I spent two days in Bournemouth looking in archives and speaking to local historians. I visited the Sheffield Archives to look at the work of Edwardian gay activist Edward Carpenter. I had a five-year email correspondence with a world-renowned expert on gay men in the Holocaust. And I read and read and read.
Can you explain the recurrence of Paul Klee's painting, Ad Marginem and why various Russian writers pop up throughout the book?
I chose the Paul Klee painting for several reasons. Klee is such a genius, but he also has a great sense of humour, which is why I love him. Now Klee was part of that infamous Exhibition of Degenerate Art put on by the Nazis. He would have been arrested if he had not been able to return home to Switzerland. Totalitarian regimes cannot abide humour, they need to destroy it and supress it.
It is no coincidence that the great Russian novels of the 20's and 30's are all satires: Bulgakov's The Master and the Margarita, The Twelve Chairs by Ilf and Petrov, We by Yevgeny Zamyatin. We, by the way, was the genesis for Orwell's 1984. It was published in 1924 (and quickly banned) twenty-two years before Orwell's dystopia was published.
So the Klee painting connects all three stories in a neat kind of way, without the connections being so contrived they seem implausible. The painting, the Russian novels and the Russian poetry represent the power of art under political repression, and the necessity of art in those circumstances. They are also there simply because I love them all. Also they represent a connection to the past for Dmitri, his whole identity is wrapped up in those cadences.
What is your writing process like?
Like a lot of writers the hardest part for me is starting. I will sharpen all the pencils, organise the reading material, write up all my research notes, and when there is nothing more to do I will sit down and write. I'm not able to separate the writer and the editor, I'm one of those writers who edits as they go, which is maddening sometimes, but I've learnt to live with it. I've found that for someone like me, plotting has very little value as the signposts which point the way usually emerge organically out of the writing process.
I find that if I step away from the writing (and do the dishes, go for a walk, fold the washing) then the reasons for a particular narrative thread, or a character's motivation pop into my head. For those thinking of taking up writing, yes there can be Blakeian moments where you feel as if the universe is pouring through your body; but these are few and far between. Mostly you will spend your days plodding through a scene you're sure hundreds of writers have written already, feeling uninspired, dull, heavy, and perhaps a little desperate for the postie to arrive. If you can cope with the latter scenario happening to you for years and years, then you are probably a writer.
Are you working on anything at the moment?
I am working on a second novel called, "Stranger, if you passing meet me." The title is a quote from Whitman's Leaves of Grass. I always seem to have ideas above my station, and this novel is no exception. Inspired by writers such as Woolf, Borges, Pessoa, Sebald and Winterson, this book will leave behind the realist novel for the fantastical and the speculative. While my first novel focused on love and marriage (both queer and straight), the second novel will be a meditation on the idea of "queer happiness," and will focus on a number of different queer identities. It will examine what it means to encounter others like you, what kinds of happiness can occur from such meetings, and how belonging to a community of strangers helps engender happiness.
Any parting words?
If you want to be a writer and you live in Australia, please, love David Foster Wallace and Marilynne Robinson all you want, but you should also (if you don't already) cultivate a passion for your own national literature. Australian writers are your contemporaries, they are the writers your work will be compared to and will be discussed alongside. For all sorts of complex reasons, there is still a cultural cringe associated with Australian writing. Why else would we let our literary heritage disappear, as Geordie Williamson discussed in his book The Burning Library? Why else would the only Australian television show dedicated to books and writing in Australia focus mainly on American and English novels? So seek out your local bookseller and get them to recommend some Australian writing to you. You will be a better writer for it.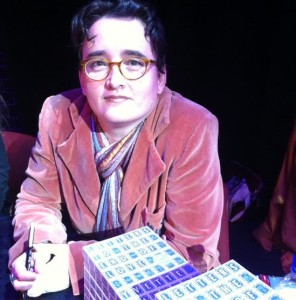 Book Review: Letters to the End of Love
Follow Yvette on twitter and facebook