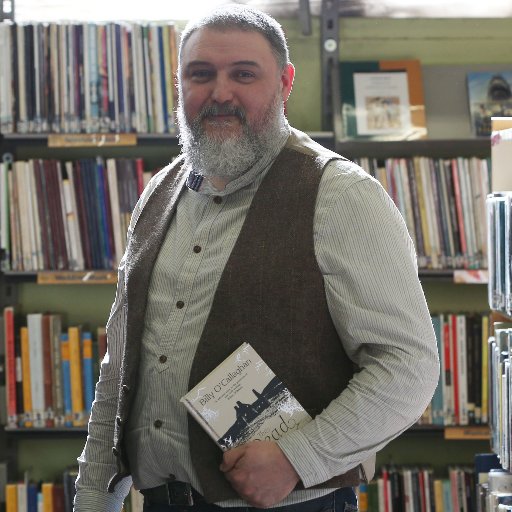 Billy O'Callaghan was born in Cork, Ireland, in 1974. He is the author of three short story collections: 'In Exile' (2008) and 'In Too Deep' (2009), both published by Mercier Press, and 'The Things We Lose, the Things We Leave Behind' (2013) published by New Island Books.
His first novel, The Dead House, was published by Brandon Books, an imprint of O'Brien Press, in May 2017, and later in the year a novella, 'A Death in the Family', will appear as a Ploughshares Solo.
He has also compiled a non-fiction book, entitled: 'Learning from the Greats: Lessons on Writing, from the Great Writers', which was published, in April 2014, by Cork City Libraries as part of their Occasional Series.
Firstly, can you tell readers about your previous work?
The Dead House is my first novel, after nearly twenty years of writing and publishing short stories. In that time I've been fortunate enough to have had three short story collections published, In Exile and In Too Deep, both published by Mercier Press, in 2008 and 2009 respectively, and The Things We Lose, The Things We Leave Behind, published in 2013 by New Island Books.
I am proud of all my books, and while sales figures for my work have been, by and large, on the modest side, each book represented a big step forward in my development. Even so, it probably wasn't until the publication of The Things We Lose, The Things We Leave Behind that I finally began to feel in some control of what I was doing. I worked a long time on those stories, and they are probably more layered, and more personal, than the stories that make up the previous collections. In that book I really began to dredge my own depths for inspiration and material, and I think, in the process, I matured as a writer.
My previous books had fallen somewhat under the radar, and I'd really almost given up on the idea that I might get to publish another collection, but I'd still needed to write the stories, because they'd become my way of making sense of the world and my place in it, and learning to accept the things that happened to me or that dominated my thoughts.
I was very happy with the finished product, though at that stage I'd been at it long enough – and been through enough – to keep my expectations somewhat tempered. But then, in late November of 2013, a couple of months after the book came out, I won the Bord Gais Energy Irish Book Award in the short story category. This was quite a thrill, largely because my father was able to attend the ceremony with me. We had to hire tuxedos, something neither of us had ever worn before, and the night proved a really swanky, celebrity-packed affair that was broadcast on television, and for about five minutes I let myself believe that my fortunes, so to speak, were really about to change.
Other writers, in particular, were very complimentary about the book, and even though it didn't take off as I'd hoped it would in Ireland, it did, slowly, begin to get noticed abroad. While the festivals at home (with a couple of Cork-based exceptions) did what they could to ignore me, I found myself being invited to read in places as wildly exotic (to me) as Ankara, Madrid and Vienna. And nearly four years on, The Things We Lose, The Things We Leave Behind continues to surprise. I feel very honoured that it has been selected as Cork's 'One City, One Book' choice for 2017, and July will see the collection published in China by CITIC Press, in a translation by Na Zhong.
All of this comes in tandem with the publication by Brandon Books (an imprint of O'Brien Press) of my first novel, The Dead House, which means that the summer ahead will be a hectic and exciting time. With The Dead House, I feel as if I have risen a level in terms of establishing my name as a writer. I can't really say whether this is down to the change in publisher, or the fact that novels are received and perceived differently than short story collections, or even just that I've hit on a story that that seems to hold some wider appeal, but this book has drawn much more attention than my previous work.
So far, it's selling well, and even enjoyed a couple of weeks at no. 2 on the Irish Hardback Fiction Bestsellers chart, ahead (unbelievably) of the likes of Haruki Murakami, James Patterson, John Connolly and Wilbur Smith. And the U.S. rights for the novel have already been sold to Arcade, an imprint of Skyhorse Publishing, which means that it'll be hitting American bookshelves in the Spring of 2018, so my good run looks set to continue a while longer.
What is the The Dead House about?
Maggie Turner, a successful young London-based artist recently liberated from a deeply abusive relationship, is touring West Cork's Beara Peninsula, when she happens upon the house of her dreams: perched on a few wild acres of land spilling down to the ocean, a ruined cottage dating back to pre-Famine times. And it calls to her. She is captivated by the wild beauty of her surround, and keen to concentrate on her art but still fragile after suffering two years of the utmost brutality, the sense of isolation seems romantic and exactly what she thinks she needs.
Following some major structural renovations, she hosts a house-warming party, inviting her closest friends: Alison, who owns a small gallery in Dublin; Liz, a poet and mythology fanatic, now resident in nearby Bantry; and, the story's narrator, her agent and best friend, Michael Simmons. The weekend reaches a climax on the Saturday night. Liz produces a Ouija board and what starts as a drunken game briefly descends into something more sinister. Maggie apparently channels a spirit who refers to himself simply as 'The Master' and who, during the worst days of the Famine, had encouraged the locals to abandon Catholicism and turn instead to the old religion, and the worship of pagan deities, a decision which ultimately culminated in the ritual sacrifice of a young girl. When Maggie awakens from her stupor the other guests are visibly shaken, but by the following day, with the sun shining and as they prepare to take their leave, the whole thing is easily dismissed as the combination of suggestion and too much alcohol.
Then the problems begin.
Maggie, cut off from the world, immerses herself in her painting. It quickly becomes an all-consuming passion but devolves, day by day, until her style is no longer recognisable. Also, she glimpses things, hears voices, finds herself drawn to certain areas, a stone circle in the nearby hills, the reefs at the west end of the beach behind her home. Slowly, her mind breaks down.
The lack of contact makes Mike nervous. He and Alison have begun a relationship, though she lives in Dublin and he in London, and he uses their next planned rendezvous as an excuse to check on Maggie. He is shocked at how far the house has fallen into disrepair, and how bedraggled and distant Maggie has grown. The following day, he returns, this time accompanied by Alison. They find the peninsula mired in fog, and that the house has been destroyed by a fire. And even worse, Maggie has gone missing.
The Dead House is a modern ghost story, but one that concerns itself largely with the impact and dangers that solitude and isolation can have on a fragile, artistic mind. In contemplating the weight of history on a place and whether it can somehow hold on to some of its darker memories, and also the power of suggestion wielded by landscape, weather and circumstance, the story is my attempt at exploring the always-thin line that separates fantasy and reality. When dealing with the illogical, a strong level of reality has to be established early on, the world has to be set in stone. It's a question of truth, and of belief or acceptance, at least as perceived by the first-person narrator.
In that sense, this novel might be more accurately described as the story of a haunting, because whether what's happening within its pages is a genuine echoing of the distant past or just some deviant state suggested by a vulnerable soul suffering the trauma of a slow breakdown is, I hope, a question for the reader to consider. And even beyond its paranormal qualities, this is intended as a story of friendship, love, and the eroding effects of solitude – with all its suggested shadows and silences – on a fragile and wounded heart. I think, and hope, it makes for a compelling read.
Where did the inspiration for The Dead House come from?
I carried the basic story around in my head for decades, long before I ever seriously thought of writing as something I could possibly do. Over the years I attempted to write it, but the first few passes at getting it down didn't work. But even when I figured out how the story would have to be told, and who should do the telling (I've learned, for example, through a lot of trial and error, that first-person narratives are essential to a ghost story), it had a hole the size of the world at its heart that I really couldn't even begin to explain, much less fill.
And then, in August of 2011, while travelling with a friend around the Beara Peninsula, I found what was missing. I hadn't even been thinking about the story when the whole thing just came together for me. It was a hot day and we were driving with the windows down and the sea on my left side was gleaming in a million ways clear to the horizon, and then suddenly, and just for a fraction of a second, something shifted and the air darkened. And that was all it took. It was like another reality was pressing against the day. That part of West Cork is laden in myth, and the sense of the ancient being everywhere, layered into every surface, combined with the weight and beauty of the landscape, and the immensity of the solitude, that feeling of being so small against the eternal spread of rock, fields, sea and sky, gave me in an instant everything that my story had been missing.
At first, and for several months, I didn't want to face the fact that I was writing a novel. That notion would have been just overwhelming to me at that time. In 2011, I was already a couple of years into another novel (that, I'm glad to report, is finally finished, though whether or not it'll ever be published is anyone's guess) and was finishing off the final few stories for what would soon become The Things We Lose, The Things We Leave Behind. I am a very disciplined writer in terms of the daily hours I put in, but I am not always a focused one, and that's how I like to work, bouncing between drafts, giving everything its chance to breathe.
I approached The Dead House as I would a short story, with the thought, in the back of my mind, that it might be a novella. I also never allowed myself to believe that it would ever be read by anyone, which freed me of a great many concerns and allowed me to tell the story as I felt it needed to be told.
Within a year I had the bulk of it written, and over the two or three that followed I poured back over it with scalpel slashes and rewrites. I can't say it came easily, and for a while it was like a brick on the page, a pacing problem that eventually demanded the cutting of an entire section, some 18,000 words, from the middle of the text, but because I'd lived and breathed the story for so long before setting down even a single word, I don't think I was ever anything but happy, even on days of the utmost struggle, with what I was doing.
Was writing a long form story a challenge in comparison to writing short-stories?
The challenge is really one of scale. Even though short stories can often take a long time to write, we are still usually talking about weeks or a few months. But novels tend to count the time in years, and that's an immense commitment to make.
I've spent most of my adult life writing short stories, and have suffered far more than my fair share of rejection, but this has always been something that I could bear because for a long time I felt as if I was feeling my way. Learning my craft, so to speak. In recent years, even though acceptances have begun to come a little more easily, I've gotten to the point where I don't think much about the business aspect of the game. I suppose I've grown in confidence, and have learned to trust my own judgement. First and foremost, I write to satisfy myself. Of course, once the stories are written, I want them to be read, but I've stopped worrying about that side of things. If a story doesn't hit, if its destiny is to live out its days in a drawer, then it has cost me maybe a few weeks or a couple of months. By the time I even wake up to that fact, another story will be well on the way to working itself into the world. And I can keep going.
Novels, though, are different. Starting into one, and knowing that you are looking at a couple of years at least of wrestling for a few hours every day with the same ideas, the same themes and characters, means that you really have to believe in what you're doing. In one sense, it's a thrilling undertaking, and that kind of time-commitment means that the story has a chance to become such a part of you that you live and breathe it. But what if you've put all the effort in, lived with the thing for two years, or five, or ten, and nobody wants it? Short story rejections hurt, but even though they help prepare you for the hardships to come, and make you realise that the world isn't waiting with baited breath for what you produce, facing a "no" on your novel submission is still a far deeper and more intense kind of devastation.
For me, the biggest challenge when committing to a novel rather than a short story is coping with the self-doubt, and the dread that I might be entirely wasting my time.
I am firmly of the belief that the only way to learn how to write is by reading and by writing. This goes for short stories and novels, both. You have to fill the well, you have to put in the hours and you have to dedicate yourself to the work. The mistakes and missteps are as essential to the process as the perfect sentences, as is the agony and horror of taking wrong turns and not realising it you hit a dead end, usually weeks or months later. Those are the kind of missteps that really challenge your faith, and that's when you have to be strong in your mind and find something that keeps you moving forward.
Have you read much by way of ghost stories and which authors inspire you?
I have always been drawn to ghost stories. especially when I was young. It may be because I've always been one of those people who feel themselves on the edge of things, who struggle at times to find a solid footing in life and whose world tends to exist a lot in glimpses, but my antenna has always stirred at the first suggestion of anything even vaguely supernatural, the sense that there might be something more to what we see and hear than is immediately apparent. It's been that way for me from as far back as I can remember, even before I ever got to hold a book in my hand.
As a small child, living with my grandmother ensured that I had a rich and ready supply of stories. She died in her early sixties, which by today's standards is no age, but to my young eyes she was ancient. She wasn't at all a writer, but she could tell a tale like no one I've ever known since, and I learned far more from her than I ever learned in school. What she gave me was truly precious: a love of stories and a way of understanding how they should be told; and she's the reason I am a writer today. At four or five years old I'd sit enraptured at her knee while she spun yarns of fairies, deaths in the family, Jack O'Lantern and the Black and Tans, she'd tell me of the Banshee and the headless coachman, and about her own father, the kindest and most gentle man she'd ever known, who somehow survived two wars, South Africa and France, in order to put food on the table for his large, hungry family and who was broken finally by the tragic death of his fourteen year-old son, her brother, after the child had taken a bad fall from the back of a pet goat. I got them all, in graphic, gory detail, and the things I couldn't quite comprehend were carefully explained to me in ways that they never would be again once I finally found myself boxed into a classroom. I was shielded from nothing, which really allowed my imagination to take flame. And while the walls of my world might have been flat and grey, I quickly realised that surfaces weren't necessarily all there was to see.
Later, of course, books played a big part. I've always been a voracious reader, and The Dead House, in particular, stems from an accumulation of a lifetime's reading. As I wanted this book to have, at least outwardly, the feel of a traditional ghost story, I'm sure I drew on memories of reading the likes of Poe, Dickens, Henry James and Sheridan le Fanu, but it's hard to cite specific inspirations. I've said when asked about this before that I think influence is a soup, and even if I can't always identify particular ingredients, I know that they all contribute to the flavour. They're all in there, everyone from L.P Hartley, Robert Louis Stevenson and W.W. Jacobs to Henry James, Oliver Onions and Ray Bradbury. Stephen King, too, a figure impossible to ignore if you grew up reading horror books in the 1980s. I can see the shadow, however vague, of a book like Conan Doyle's The Hound of the Baskervilles in my novel. And M.R. James, of course, in my opinion the true master of the ghost story, was a constant companion. His are stories that I've read and reread probably every year of my life since I was a teenager and I know that reading them helped me gain a better understanding of the story I had in my head.
As important, though, as all of these stories and writers were to my development (and the names I've cited really only focus on those writing within or close to the genre, without even getting into the subject of my favourite writers), none of them come close to approaching the impact that my grandmother's words had on me. When I sit down to write, the voice I carry inside me bears more than a few notes of her inflection. She lit the fire in me.
Do you believe in ghosts and have you drawn on real-life experiences in The Dead House?
I am open-minded enough, and enough of a dreamer, to believe in the possibility of everything. Maybe it's a question of wanting to believe. Certainly I have always been extremely sensitive to mood and atmosphere, not only with regard to places but with people, too. I think it's a question of perception, and of how closely we choose to look and listen. And in my life I have experienced a number of things that have defied explanation. I've heard the clear sound of footsteps coming up an empty loose-gravel driveway on a cold October night; I've heard what part of me will always believe was the Banshee on the night my grandmother, my father's mother, died; and I have a crystal clear memory of a strange afternoon, when I couldn't have been more than three or four years old, sitting on the bottom step of the stairs, a usual haunt of mine for playing with toy soldiers when it was raining outside, and looking up to see a woman, dressed in black and wearing a hat, staring down at me from the landing above. My grandmother and mother were both at home, and inside by the fire, and there was no one else in the house. Even now, I can still see that woman's face. My child's mind made sense of her as a witch, probably because of the black dress and the hat, and I've seen her on and off, in the decades since, in my nightmares.
I think these moments are part of the reason why I write. It's that need to weigh mystery and to make sense of life, and the world, not even necessarily to understand the things that trouble us, but to make some kind of peace with them, while still being able to pick ourselves up after a hard spill or a bad day or night and to find some way to keep moving forward.
You delve into the darker side of society (such as the effects of domestic violence) in the book, can you discuss why you decided to write about such traumatic experiences?
The character, Maggie, the artist who settles in the cottage in West Cork, is the one who has suffered brutal domestic violence. I wanted to write about a fragile mind, because I needed someone particularly vulnerable to the suggestion of supernatural energies. Maggie is intelligent, but has made some bad choices in her life, and seems incapable of avoiding dangerous situations. Also, I'd read that many victims of domestic abuse had either experienced the same thing or similar in their childhoods, and would often repeat the patterns over and over in their lives. I didn't want it to be a defining quality, but a detail within Maggie's nature that could be further explored in a wild and isolated environment and would mesh with the story I wanted to tell.
Actually, my writing has always tended towards dark or difficult situations. If writing is an exploration, and a mechanism for helping us to understand life, then it's natural to focus on the more traumatic aspects. Aren't we, all of us, marked by our pasts? Stories thrive on tension, and I have always been interested in how people cope in the face of tragedy or during moments of great or inner turmoil, and the way that, hauling immense weights of guilt or regret behind them, they can somehow still find some glimmer of light that keeps them moving forward. That's one of the essences of human existence and, to me, something well worth writing about.
Setting plays a major part in your stories and you write so vividly about certain places, can you discuss how setting influences your work?
Landscape and setting is extremely important to me. When writing, I value atmosphere highly, because it gives the story a mood that can linger with the reader long after facts of the plot or details of the characters have faded. And setting definitely feeds into the atmosphere. A strong sense of place becomes a kind of a character in itself.
I strive at all times to achieve a sense of reality. This is true even with a ghost story, because if it is to work then reality has to be well established before it becomes skewed. My ambition, always, is to make the reader believe that what they've just read is true. And generally, the ones that have come closest to succeeding (by which I mean, the ones that feel most fully formed) have been the stories with an extremely strong sense of place.
I love to travel, and find that it really ignites my imagination, maybe because it can feed an exiled mindset, and it seems to lift me to a heightened level of awareness. When I travel, I tend to feel stories nearby, and because everything is new to me, I find myself looking closely and really trying to absorb the details and atmosphere of where I am. This was true of many of the stories in my last collection, whether set in New York, Taipei, Seville or the islands off the west coast of Ireland, and it was no less true of The Dead House, and West Cork's Beara Peninsula.
Yet at the same time, the places I use in my stories are often as much imagined as real. It has to do with perception, I think. Years ago, I read Lawrence Ferlinghetti's poetry collection, A Coney Island of the Mind, and that phrase, even more than the work itself, has always stayed with me and inspired me in my writing. Our minds build their own reality, I suppose.
"The perpetual ideal is astonishment," Derek Walcott wrote, in the title poem of his beautiful collection, White Egrets. Back in 2011, when touring the Beara Peninsula, I'd only recently read that book, and the line might have been written with that place in mind. All the time I was there, it echoed through my head like a song, and I knew the truth of it. For me, it had to do with the beauty of the landscape, but also the sense of being on the edge of the world, and the sheer weight of the past. There's an eternal quality about that part of West Cork, maybe to with the wildness of the scenery, the determined stillness of the rocks, the sheer scale of everything, sky and ocean, so that you almost can't help but be aware that your moments are nearly insignificant in the greater scheme of things, or just a minuscule part of that world, like one blade of grass in a field. And there were those moments, such as how the light would shift in a subtle but sudden way, when the whole atmosphere would change, when the day around me would thicken, often just for a second or two, as if some other reality were pressing against the one that I was living. The past is an immensity in a place like that, which makes it an ideal setting for a story like The Dead House.
The characters in The Dead House are so realistic and well observed, are they based on people you have met in your lifetime?
Aspects of the characters are based on people I've known, certainly, and the narrator is, in a number of ways, a reflection of me. But all are so heavily fictionalised that I doubt anyone but me could see the connections. This is my usual way of writing.
My best stories reflect a lot of myself because they tend to be the stories that are drawn from real moments in my life and the deepest places inside me. Obviously, the stories will have been flushed through the filter of fiction but the closer they can come to real life, the better chance they have of helping me make some sense of the world as I find it. My hope, always, for the stories I write is that a reader will come to them and believe them to be true. And I've found over the years that the closer the piece I am working on is to my reality, and the closer I can come to making my characters reflections of real people, the better chance the story (or in the case of The Dead House, the novel) has of succeeding in its goal. Seamus Heaney put it best in his poem, 'Song': "That moment when the bird sings very close / to the music of what happens."
Was writing a novel something you had to get out of your system or do you have plans to continue writing long form stories in the future?
I don't think it was a case of doing it just get it out of my system. It's the idea, really, usually driven by the themes I want to explore, that dictates the length of what I write. For me, writing has always been an organic process, and having to fit something into a box right from the beginning seems an unnatural way to approach writing.
I've spent so much of my life writing short stories that I think something in my brain has wired itself to accepting them as a default position. I love the intensity and compact nature of the form, and I love reaching for the allusiveness that can had layers of depth to the text. Story ideas tend to come to me in very definite shapes, even when their telling can be allusive, and I recognise them by their intensity. Novel ideas feel rich, too, but in less-defined ways, and the attraction is often their scale.
Over the past few years, I have found in recent years that my stories seem to be growing longer, that they seem to be reaching for a larger canvas. They feel to me like some of the best things I've ever written, and while they are still, in my view, short stories, at 12,000 to 15,000 words. There are exceptions, and Ploughshares will publish a short story of mine later in the year that is stretching dangerously close to novella length but, generally speaking, such stories are far less likely to be published outside of a collection. I can't really say whether this length-increase is a consequence of working on novels, or just a natural development and something dictated purely by the story trying to get told, and I try not to worry about it. For me, writing is such a trial-and-error process that I am happy to take what I get.
Since The Things We Lose, The Things We Leave Behind in 2013, I have published a number of new short stories in some good and even prestigious journals, and earlier this year a story of mine, 'The Boatman', was a finalist for the Costa Short Story Award. Since then, I've finished another couple of stories to complete work on a new collection that I am really happy with and which I hope will be published some time in 2018.
Moving forward, I expect that I'll continue to work in both forms. I have ideas for a couple of novels that I want to write, and I have thoughts for some good short stories that I haven't yet been able to get down on paper to quite my satisfaction. If I can continue in this way for the rest of my days then I won't complain about too much.
Follow Billy on Facebook & Twitter
Read a review of The Dead House here
Read a previous interview with Billy O'Callaghan
Read a free sample of The Dead House below..