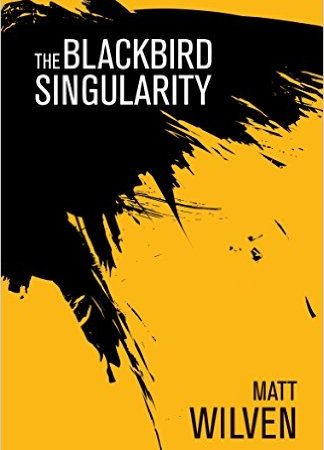 The Blackbird Singularity
Literary fiction
Legend Press
August 1, 2016
Digital & Paperback
272

Synopsis:
Vince stops taking his lithium when he finds out about his partner's pregnancy. As withdrawal kicks in, he can barely hold his life together.
Somewhere between making friends with a blackbird in the back garden and hearing his dead son's footsteps in the attic, he finds himself lost and alone, journeying through a world of chaos and darkness, completely unaware of the miracle that lies ahead.
Shortlisted for an Amazon Rising Star Award
Longlisted for the Guardian Not the Booker prize 2016
---
Book Review:
The Blackbird Singularity explores the fine line between a writer's creativity and a mind in the grip of a full-blown manic episode. The story is told from the point of view of Vince, a struggling writer, who decides to stop taking his medication when he discovers his wife Lyd has become pregnant. He longs to redeem himself from a deep sense of failure as a man and as a writer. He is convinced that withdrawing from the effects of lithium will release him from grief and help him become a better father following the death of his three-year old son.
As Vince slowly withdraws from his medication, his senses become more acute and he starts to notice signs and portents everywhere. Throughout the course of his wife's pregnancy he becomes friendly with a blackbird who appears to communicate messages to him about his life and events that are about to unfold in the future. What follows is much more than a manic episode but an examination of grief and separation. This unexpressed grief and desire to feel connected pervades the entire novel and is rendered masterfully.
As Vince slowly descends into acute psychosis, his wife leaves him and his behaviour becomes more erratic to the point that he has hallucinations of his dead son in the attic of his house. But the reader is also left with the feeling that his behaviour and mental state is a normal reaction to an abnormal situation and Vince's way of throwing off the trauma of his past and to begin life anew. Even though this is a work of fiction, The Blackbird Singularity had me questioning the nature of reality, physics and the ultimate meaning of life and death.
Matt Wilven has written a powerful account of a writer's mind in the grip of mania. What the medical profession describe as bi-polar disorder (Related link: The Hero Returns) doesn't account for the profound insights that can be gained while in this state. His exploration into the mind during mania is so convincing that this book could almost be a literary case study. Wilven is an astute observer of life as well as the metaphysics behind life and brings an intellectual understanding of quantum physics, philosophy and psychology and weaves it into the landscape of the mind. It is both strangely familiar and yet deeply unsettling. The Blackbird Singularity is up there as one of the best debut novels I've read in the past few years and one that will no doubt leave a lasting impression.
Interview with Matt Wilven here.
Read a free sample of The Blackbird Singularity below..
---
Do you enjoy reading and talking about books? We are putting together a team of reviewers who are passionate about reading and sharing book reviews. Whether you are experienced in writing reviews, have a GoodReads account, or you just you enjoy reading and recommending books to others, we would love to hear from you!
Each review you write will be shared exclusively on our website for other book lovers to read. The top reviewer in our team who has written the most high-quality reviews will also receive a $100 Amazon gift-voucher and may even lead to a full-time paid book reviewer job.
Go to Book Reviewers Wanted to find out more.