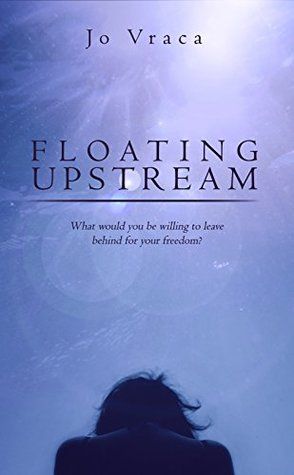 Floating Upstream
Coming-of-Age
Intangible Publishing
June 3, 2015
Digital & Paperback
268

Julia Marconi has a simple dream--to get out of Goldburne, the stinking hot town in rural Australia, where she's followed the rules her whole life. She dreams of adventures far away from her violent father whose only goal is to maintain his old world values in changing times. Julia longs for true love rather than the match "made" for her years ago.
Synopsis:
Super spunk Robbie Ventura and the arrival of the Carnival add unseen complications to her life, just as she's ready to settle in and stay out of trouble. It's all so tantalising. Just a taste here and there won't hurt. After all, she's an excellent liar. So with her brother's motto, "Don't get caught," stuck in her head, Julia tries to survive her senior year of high school. All she has to do is spend the last year of the 70s with her head afloat, despite the currents dragging her away from her goals.
But the town of Goldburne and her father have eyes and ears everywhere, and her parents' plans for Julia don't involve starting the new decade and new life in the city. A secret that spans three generations and a war could mean Julia ends up like Maria Gervase --knocked up and married by 18.
---
Book Review:
Seventeen year-old Julia Marconi, dreams of the day she can break free of her abusive father's hold over her and away from her "big, fat drama-queen" mother.
Her parents, traditional Italian migrants, have always dictated Julia's life and her future, but Julia only wants to run away with her brother Joe's long-time friend, Robbie Ventura, who she is desperately in love with, and away from her arranged marriage with the baker's son.
In a slow-paced town, where the only excitement that occurs is the gypsy carnival arriving each summer, reputation is everything, but Julia yearns for more, and in secretly rebelling against her parents, Julia begins to discover more about herself, meeting Liliana, the fortune telling gypsy who predicts her mischievous future and desire for love, and Julia begins to uncover secrets her family thought they had buried.
Some of the characters in the book feel inconsistent and not fully thought out, which to me as a reader prevented me from relating to them or caring about what happens to them, but sometimes this works in favour of the events in the book as there are situations that the reader may not expect and the unfamiliarity with the characters makes it unpredictable and creates some unexpected plot twists.
I can see the kind of characters Jo Vraca is trying to create, but the inconsistencies created plot-holes throughout the book and the reactions from some of the characters didn't feel genuine as no clear character development is outlined.
Robbie takes a sudden interest in Julia, which seems simulated and not natural to the characters, and prevents relationship development,
"Robbie had barely even turned around to look at her.
'Of course, he doesn't notice you. You're a kid… As though he even knows you're alive.'"
Throughout most of the text, Jo uses strong language to portray emotion but her use of swearing can sometimes make the dialogue feel disjointed and too harsh, and I think her choice in language could have been selected more sensibly. Aside from this, she uses lots of good descriptive language that creates a vivid impression and vision of the town and its surroundings.
"The wagon was unlike anything she had ever seen: red with golden swirls and bunches of purple grapes painted across the front door. Spokes that were once white with thin red trim were muddied and peeling. A woman sat at a window whose shutters were thrown open. She had the air of some bored beauty queen in a parade, except she looked nothing like a beauty queen, with that mess of red hair that hung around her face like fairy floss."
The end of Floating Upstream, although isn't one of closure, or with a full sense of happiness or sadness, suits the theme of the book, and represents the ups and downs experienced in life. The ending shows the overall character development that occurred throughout the book that wasn't always clear.
Although this book had plot holes, and there was the occasional typo, it was an enjoyable read and a great Australian novel. It was emotional and unique in the values that Julia was faced with, by her parents and the society she lives in and was uplifting in the breaking away from expectations and painful memories.
Follow Jo on Twitter
Read a sample of Floating Upstream by Jo Vraca below..
Do you enjoy reading and talking about books? We are putting together a team of reviewers who are passionate about reading and sharing book reviews. Whether you are experienced in writing reviews, have a GoodReads account, or you just you enjoy reading and recommending books to others, we would love to hear from you!
Each review you write will be shared exclusively on our website for other book lovers to read. The top reviewer in our team who has written the most high-quality reviews will also receive a $100 Amazon gift-voucher and may even lead to a full-time paid book reviewer job.
Go to Book Reviewers Wanted to find out more.