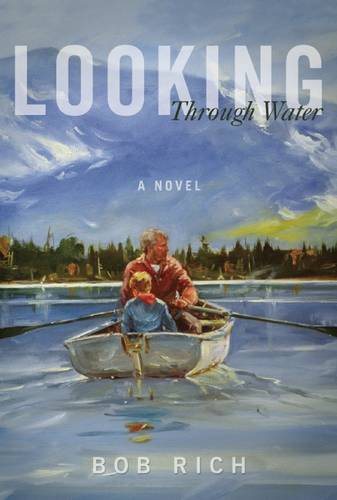 Looking Through Water
Fiction
Skyhorse Publishing
November 3, 2015
Hardback
208

Synopsis:
In Looking Through Water, William McKay finds himself reliving his past to help his troubled grandson, Kyle, deal with the present.
William's story starts on an Adirondacks lake and wends its way through Manhattan to the Florida Keys. Colorful characters from the old man's past come to life to help him tell an unforgettable story full of surprises and suspense.
Fueled by nature's fury, men are yanked out of their comfort zones and thrown together to confront life and death. Just as William appears to be on the brink of permanent unmooring, a stranger unexpectedly arrives to provide the tethering he has always sought.
Looking Through Water twists and turns as old wounds are revealed, wrongs are redressed, lives are threatened, understanding surfaces, and love arrives. With his grandfather's past laid bare, Kyle must ultimately face how he might shape his future.
This story explores the emotions that make up the intricate tapestry of family structure by pulling at the threads of truth, lies, and misunderstandings.
---
Book Review:
Author, Bob Rich describes himself as a 'storyteller' rather than a writer. In saying that, he knows how to spin a good yarn. I found that even though there were no grammatical errors there were some issues with style. The book could've done with quite a bit of rewriting in parts and the characters could've been fleshed out a lot more.
I'd question whether William telling his story to his grandson Kyle would not have been better told in first person point of view rather than third person. There seemed to be a disconnect in this making the story a little jarring.
I learned a thing or two about fishing from this generational Scottish family saga. Most people unfamiliar with fishing boats or who have never been to the Florida Keys will have ever heard of a skiff, or marlin, or even a permit. After a while some of the fishing terminology started to wash over me.
At around the 91% point into the story when the two brothers were battling the storm, William turned to his injured brother and said;
"After all, you're the only family I've got left".
I found this a peculiar thing to say to a brother he never knew existed until a few days prior given that he had a daughter and grandson.
The dialogue was a little bit stilted and lacking in believability in parts. For example when Cole said to William after the boat capsized and he was being rescued from an overturned vessel;
"Forget it, you can have the boat".
Some of the familiarity between the brothers lacked authenticity such as Cole calling William, 'Will' and 'bro' when they were knocking lumps out of each other days before.
I'm not sure that William falling asleep during a raging storm while his brother is passed out is something that would really happen in reality and seemed a little bit fairy tale like.
There were areas that could've been explored in depth such as William's experience in Vietnam which was only glanced over when he being rescued by a chopper. Also being taken to the hospital where his 'love interest' Jenny Hunter worked, who knew him for the whole of three days, before disappearing in a hurry but then having an about turn behind the scenes as a result of William 'transforming' himself through his ordeal which was only revealed at the end leaving a major plot hole.
Overall, even though it was a good story, albeit a short one, it was lacking in parts.
---
Do you enjoy reading and talking about books? We are putting together a team of reviewers who are passionate about reading and sharing book reviews. Whether you are experienced in writing reviews, have a GoodReads account, or you just you enjoy reading and recommending books to others, we would love to hear from you!
Each review you write will be shared exclusively on our website for other book lovers to read. The top reviewer in our team who has written the most high-quality reviews will also receive a $100 Amazon gift-voucher and may even lead to a full-time paid book reviewer job.
Go to Book Reviewers Wanted to find out more.