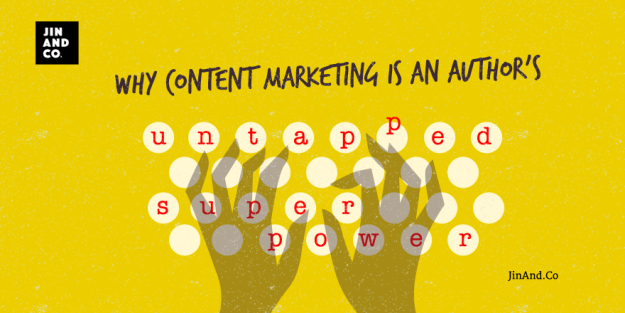 Jin is a designer from Melbourne, Australia who is dedicated to helping Australian writers build their personal brands online. The following article is a step-by-step guide to help authors build their author platform.
Content Marketing for Authors – A Step-by-Step Guide:
If there's one low-cost marketing strategy that's perfect for writers, it's content marketing.
Content marketing for authors is the process of creating and distributing valuable content to attract readers to build an audience, and attract 'employers' for writing or career opportunities.
I think of content marketing as an author's untapped superpower. Authors already have a preference (and skill) for communicating through words.
What do I mean by 'content'? Here, it means any media you could publish on the web. The simplest, low-resource, and most natural to writers is text. A blog.
Authors cringe at the idea of marketing because they associate it with selling. But I like to think of it this way: you're sharing your passion for your books, in a way that's helpful and/or entertaining.
You don't need to become a sales person. You need only indulge the best aspects of your character. You have everything you need for building a relationship with your audience. Teach and entertain, don't sell.
"People don't buy from websites or promotional fliers, they buy from people"
~ Beth Buelow
Here are 5 benefits of blogging for authors:
1. Establish and promote your name as a brand
2. Promote your books
3. Develop content to fuel social media sharing
4. Develop freelance writing opportunities
5. Connect with peers, readers, and influencers
3 Essential elements of a successful author website
Marketing your name as a brand online starts with your website.
Here are the three pillars:
Distinct design. Just like every book needs a unique cover design, so does an author's website.
Content Management System. Be able to self-manage the site to update your pages, and run a blog.
Marketing Strategy. The biggest myth on the web? 'Build it and they will come'.
Without a simple strategy, you won't get any website visitors.
A step-by-step roadmap for getting started with content marketing
So what does a simple blogging marketing strategy look like? Here I outline seven steps, spread out over seven days. Once you're up and running, just head back to day three and repeat!
Day 1 – Define your goals and audience
I know, these guides always start with these annoying (difficult) questions. It's for good reason.
Without a clear picture of the end result, you'll be stumbling along not knowing what to do or know if it's working. Your goals must be specific.
Here are a few examples.
Building your author platform. When authors hear this they often think it means getting active on Twitter or Facebook. Tweeting is part of the process, but remember: social media is the vehicle, not the destination.
Keep the conversation going. We all know that book sales drop off after that first year and your publisher only commits to certain types of promotion.
Direct sales. If you're self-published and sell online, you can track a person from reading a post, all the way through to checkout.
Freelance writing. It may be your primary source of income. Developing your name as a thought leader with a distinct point of view is essential. Content marketing is one of the most effective name building strategies.
Just as your goals must be specific, so does your audience.
A niche of one. You can't get any more specific. Start by defining a niche, the smaller the better.
A big mistake many authors make is assuming their blog is for everyone.
Not only will writing for one person help focus your blog post planning and writing, it will also make promotion a lot easier.
Day 2 – Creating ideas for blog posts
New bloggers often have two major problems with blogging.
Firstly, not forming a purpose or direction for the blog, which leads to not knowing what to write about.
Here's one exercise from Darren Rowse at Problogger, that really helped me. It will give you clarity about your blog's purpose, and can potentially create hundreds of post ideas.
Darren's exercise it to take a blank sheet of paper and draw a 'Point A' on the left, and a 'Point B' on the right.
‣ Under Point A: describe who your reader is when they arrive at your blog for the first time.
‣ Under Point B: describe what you want your reader to become after reading your blog after a period of time, say one year.
‣ Then between A and B: list the lessons or chapters your reader needs to go through.
My Point A is an emerging writer, new to author websites and online marketing. My Point B is an established author, that has full creative control over their author website, to build their brand online.
Day 3 – Write and publish your first post
I'm certainly not in the position to teach you how to write, so here are tips specific to the web:
‣ 500-1000 words. You want quality over quantity so there's no fixed word count. But in order for people (and Google) to take you seriously, this is the sweet spot.
‣ Keep sentences short, use bullet lists for easy scanning.
‣ Use subheadings and images as 'scroll breakers'.
‣ Use at least one image as a featured image at a size that's ideal for social media sharing.
‣ I go for 1024 pixels wide x 512 pixels high which is flexible enough for Twitter, Facebook, and my website. The only alternative size is that tall portrait images work better on Pinterest.
‣ Add your name/logo and URL in case the images is seen in isolation
‣ Don't use stock photos. People can spot them a mile off. Besides, it defeats the purpose of creating an authentic personal connection.
Day 4 – Promoting your blog post on social media
Once you've hit publish, it's time to promote your content.
Here's how:
‣ Start by sharing your post headline, optimised image, and link to your blog post
‣ Then create alternate headlines for re-sharing to social media
‣ Then re-post with another image from the post if you have one
‣ If you can, add the headline to the post image itself, so it can be understood on its own
‣ Pull out quotes to create tweets and infographics
‣ Post in the form of a question or 'How to'
If content is 'evergreen' it can be re-shared for months or years to come.
Unless you're going all in, hanging out all day on social media isn't a sustainable long-term marketing activity. Schedule your social media using a tool like Buffer. These apps have inbuilt link shorteners, to save you characters, and provide statistics.
Day 5 – Getting influencers to share your post
Influencers are prominent people in your niche. They'll be established authors, writers, book bloggers, and news channels. Influencers have large established audiences. If your social reach is small, your goal is to have them share your content.
‣ Reach out to people you've included in your articles for them to share your content
‣ Reach out to influencers that have linked to similar content, to get a link to yours
‣ Add comments to related articles on other blogs, forums and groups
Content marketing doesn't just mean your content.
Use a '411' model of sharing:
‣ Share 4 new pieces of content produced by influencers, and interesting things you find on the web
‣ 1 retweet/share.
‣ 1 piece of your own content.
It may seem counter intuitive, but sharing work by others, builds your profile.
Day 6 – Getting email subscribers
Social media is great  for making personal connections, reaching new audiences, and driving traffic, but it can be unreliable and ever-changing.
More important than reach, is ownership. You don't own your Twitter followers. Twitter does. Your website and email list is yours. You own it.
As an author, your primary goal isn't getting followers on social media. It's to get your followers and website visitors to subscribe to your email list.
Day 7 – Maintenance and into the future
After you've got a few posts under your belt, it's time to work out how to get more people to visit your website.
‣ Install analytics to get statistics about what people want from your blog
‣ Review which posts get shared, and from where you're getting traffic
‣ Reply to comments
‣ Build a network of blogging buddies (like a writing group)
‣ Support and share other people's content
‣ Re-purpose existing content to create shareable infographics and inspire new posts
If you made it to the end of my 7-day plan, well done. It's not easy. But you're off to a flying start because you have a solid strategy in place.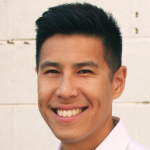 About the Author: Jin Wang specialises in author website design. His blog focuses on website tips and book marketing strategies for authors. Go to: www.jinand.co/articles