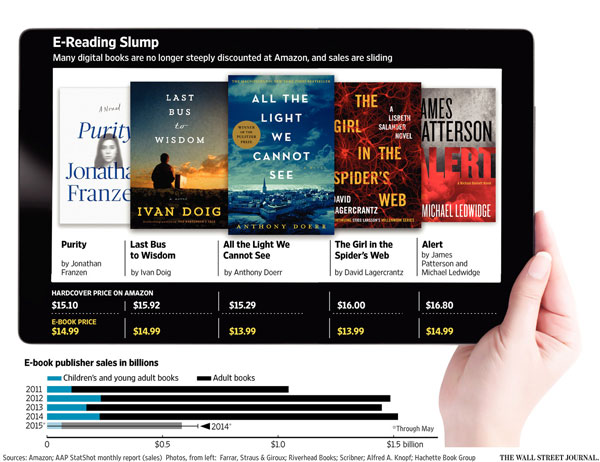 WSJ:
When the world's largest publishers struck e-book distribution deals with Amazon.com Inc. over the past several months, they seemed to get what they wanted: the right to set the prices of their titles and avoid the steep discounts the online retail giant often applies.
But in the early going, that strategy doesn't appear to be paying off. Three big publishers that signed new pacts with Amazon— Lagardere SCA's Hachette Book Group, News Corp's HarperCollins Publishers and CBS Corp.'s Simon & Schuster—reported declining e-book revenue in their latest reporting periods.
"The new business model for e-books is having a significant impact on what [the big] publishers report," said one publishing executive. "There's no question that publishers' net receipts have gone down."
A recent snapshot of e-book prices found that titles in the Kindle bookstore from the five biggest publishers cost, on average, $10.81, while all other 2015 e-books on the site had an average price of $4.95, according to industry researcher Codex Group LLC.
"Since book buyers expect the price of a Kindle e-book to be well under $9, once you get to over $10 consumers start to say, 'Let me think about that,'" said Codex CEO Peter Hildick-Smith.
'It may be that consumers aren't happy with the higher prices.'
—Mike Shatzkin, publishing consulting
In some cases e-books cost about the same as the hardcover. Amazon is selling the hardcover edition of Jonathan Franzen's new novel "Purity" for $15.10—11 cents more than the $14.99 e-book price set by Macmillan Publishers, a unit of closely heldVerlagsgruppe Georg von HoltzbrinckGmbH, which declined to comment.
On Thursday morning, there wasn't a single title priced at $9.99 among the top 20 titles on the company's Kindle best-seller list. Last summer, Amazon offered the digital edition of James Patterson's thriller "Invisible" for the bargain price of $8.99. Mr. Patterson's newest tale of suspense, "Alert," went on sale Aug. 3 on Amazon for $14.99, a price set by Hachette, Mr. Patterson's publisher. The unit sales for Mr. Patterson's e-books weren't available.
The precise impact of the deals with Amazon, the dominant player in book sales, is still a matter of industry debate. The drop in sales could be partly due to a crop of lackluster new titles. But some publishing executives say higher e-book prices, resulting from the Amazon deals, are discouraging purchases.
Publishers succeeded in preventing Amazon from lowballing prices, but "unfortunately, it may be that consumers aren't happy with the higher prices," said Mike Shatzkin, chief executive of publishing consulting firm Idea Logical Co.
Hachette cited fewer hot titles and the implementation of its Amazon deal as reasons that e-books fell to 24% of its U.S. net trade sales in the first half of 2015, from 29% a year earlier. Declining e-book sales contributed to a 7.8% drop in revenue in the period.
Industrywide, for the first five months of 2015, publisher e-book revenue for adult, children's and young adult titles fell 10.4% to $583 million compared with the same time in 2014, according to the Association of American Publishers' monthly StatShot report, which collects sales data from 1,200 publishers in the U.S.
Simon & Schuster cut a new deal with Amazon last October. It was followed by Hachette, Macmillan and HarperCollins, which like The Wall Street Journal is owned by News Corp. Macmillan doesn't provide its financial results. The fifth publisher, Penguin Random House, majority owned by Bertelsmann SE, has a deal with Amazon that went into effect Sept. 1.
Amazon declined to comment.
Read full article here