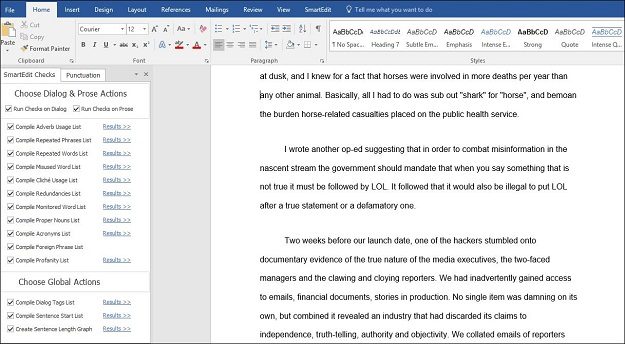 As an editor and writer, I'm always on the lookout for apps, hacks and plugins that will make my life easier, streamline a particular process or help improve my work. SmartEdit popped up on my radar recently and I decided to give it a whirl to see if it could add value to the beta reading, editing and manuscript assessment services provided by Writerful Books. Generally, when it comes to add-ins and editing software I'm all about benefits rather than bells and whistles. It didn't take long before the benefits presented themselves after launching the add-in through Word and running checks on a fiction manuscript.
SmartEdit is a smart editing tool for editors and writers.
An important point needs to be emphasised; Smart Edit is NOT a replacement for the type of editing and discernment that is best left to an experienced editor but can be of enormous benefit in terms of identifying overused adverbs and phrases, clichés, possible misspelled words, redundancies, as well as flagging a list of words that may be problematic. Another handy feature is the sentence length graph which is particularly useful for writers who want to ensure that their sentence length is balanced and their work doesn't contain sentences that are either too long or too short.
Do you need to hire an editor?

There are two versions of SmartEdit, which are free to download and to try out for 10 days. If you use Word, it is recommended that you download and install the Microsoft Word Add-In but there is also a standalone version that can work independently of Word if you prefer to work with writing software such as Scrivener.
Download a free trial version here
Writers, do you have any other editing tips or editing software recommendations?
Feel free to comment below…