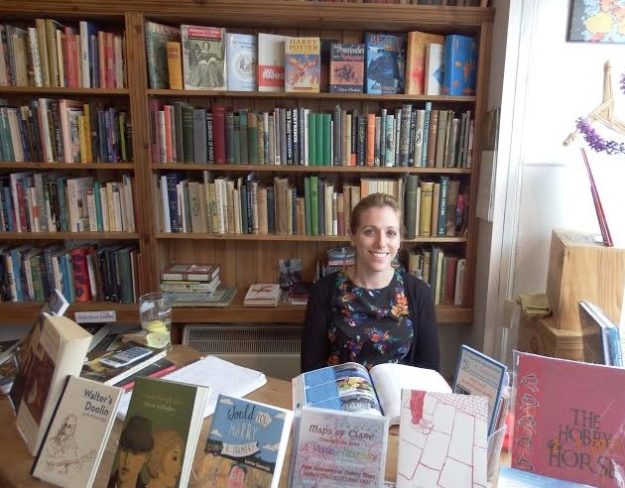 Elizabeth (EM) Reapy is an Irish writer and tutor. Her debut novel Red Dirt was published in June 2016.
Tell us a little about yourself Elizabeth?
I qualified as a secondary school teacher after doing a BA in English Lit and History but left teaching to do a Masters in Creative Writing. After this, I ran an online journal for new and young Irish writers for five years and learned a lot about editing, creating networks, setting up events, online promotion. We released an anthology and ran two festivals through that project.
Lifestyle wise, at the moment, I'm very health conscious, interested in how what I eat and what I put on my skin affects my well-being. Trying to look after myself a bit more, I guess. I enjoy going to the gym, swimming, walking, trying out new fitness classes and types of meditation. I've been teaching myself Spanish since last March and hoping to trek around Spain soon. I love travelling, either with friends or solo.
I love music, open to all genres but so far this year, enjoying Beyonce, Radiohead and James Blake's new albums. Excited to hear Beck and Roisin Murphy's next albums when they are released soon. I'm most obsessed with books though; reading and talking about (and writing!) books makes me happy.
What is Red Dirt about?
It's about three young Irish migrants, struggling with their pasts, trying to start afresh in Australia. They all make some poor decisions and then have to deal with the consequences of them, learning things about themselves and the world as they do. There are themes of self-destruction, self-acceptance, powerlessness, responsibility, alcoholism, loss of spirituality, individualism, hope. I think it'd appeal to readers who have travelled or felt lost at some point in their life, or readers who want to read different perspectives on the migrant experience.
Can you share some of your experiences in Australia which lead to you writing Red Dirt?
I went to lots of different places around Australia but I had a wonderful time there, unlike my characters. I loved the vibrancy of the landscape and how the cities had wildly different vibes from each other. Being from Ireland, I was not used to the immense space in Australia, I was really inspired by this.
I was angry though at how our economy had collapsed without much thought for the future, the young and the vulnerable being hit hardest by the corruption and fecklessness of the Irish governments, builders and banks. I think this anger fuelled my writing. I did hear some pretty intense stories from other people travelling in Oz about what was going on in their lives and I noticed how there was a sense of dislocation and loneliness amongst some of the new Irish there. I wanted to capture some of this too.
Take us through the process you went through (editing / rewriting etc) after it was rejected?
It was difficult at first, when the book was initially submitted it was rejected but I moved back to my hometown and had to re-do the third section. I worked off the editorial feedback I was given, which was quite generous and helpful. When I'd finished the rewrite, it was resubmitted and instead of waiting around, I went to Nicaragua for a short trip, then moved to Co. Clare where I got a job in a bookshop. I spent a lot of time figuring out a writing/life balance, learning new skills and improving my fitness and social life. My problem hadn't been finding time to write, it had been in finding time to live!
Are any of the characters in Red Dirt based on Irish people you encountered in Australia?
Some of them would have been initially inspired by some people I met, but when I started writing and rewriting and editing and redrafting, the characters took on a life of their own. You copy and paste from many different sources to build a character but they are still made new on the page. They take on their own form and I find it's easier to follow them, or to let them tell you their story instead of trying to control them to fit into what you thought was the plot or storyline.
Tough economic conditions can often produce a profusion of artistic work; would you say that the recession has had an influence on you pursuing a writing career rather than being a teacher or a real estate agent for example?
No. Not for me really. I quit teaching while the conditions were still good. I only wanted to write so it had no bearing on my career plans what was going on economically. I still enjoy teaching and volunteer with a creative writing workshop for kids. In Autumn, I'll be doing some training to be an adult literacy tutor too. Before the recession, during it, after it, I worked different jobs to keep myself going financially, (not in real estate!) but in bars or stores or offices, had some freelance editing gigs too. However, I always had the goal in sight – to be a professional writer – and things were just a means to an end while I was writing the book. The recession only influenced my ideas, not my career choice.
What possessed you to write a large part of the novel in second person?
It just came to me naturally that way. I had it in second person for the beginning of Fiona's story and then after an incident in it, it turned into a first person perspective. It was this way for years but I changed it all to second after a flash of inspiration on a bus journey in New Zealand. I'd hope the perspectives, maybe, represent the characters. Murph gets first person, he's quite self-serving. Fiona is a victim when we meet her, her story is being told to her. Hopper's an outsider, alienated and pre-judged. His story is in third person.
Ireland has always had a strong literary tradition, so I am interested to know your thoughts on the state of Irish writing at present?
Irish writing is excellent. I know I'm probably biased but I'm constantly impressed by the work that comes from here – new writing and the classics. I think there's a lot of innovation in all streams of Irish writing; poetry, theatre, memoir, scriptwriting; as well as fiction. What's great is that writing is appreciated and supported, even if it's a tiny country, there's a lot of protection of the arts and encouraging of creativity, that sort of climate can help foster literary talent.
I really enjoyed the work of new Irish fiction writers such as Danielle McLaughlin, Donal Ryan, Colin Barrett, Rob Doyle, Lisa McInerney, Eimear McBride, Madeleine D'arcy, Sara Baume, Paul Lynch and still there's many more I have to catch up on yet. I loved Belinda McKeon's Tender last year, it was haunting. I'm currently reading Paula McGrath's Generation, Paul McVeigh's The Good Son and Mike McCormack's Solar Bones, re-reading There are Little Kingdoms by Kevin Barry. I love the work of Anne Enright, Roddy Doyle and Claire Keegan too.
Do you have any upcoming projects or work in the pipeline?
I'm working on a couple of things, new stories and ideas and also some collaborative projects. It's a little soon to discuss them though, there's still a chance they will mould into something else completely.
What is a typical writing day like for you?
I get up at 6.30ish and do morning pages. I get coffee, tea, a green smoothie and write or edit until midday. I take a break and eat then. After that I can reply to emails etc, do the non-creative stuff for a while. Then the rest of the day will be spent reading and making notes. I'm pretty happy to be at my desk writing and studying so it doesn't feel like a long day's work. It doesn't feel like work at all. Life gets in the way of course but if I can protect the creative part of my routine, I'm okay to catch up on everything else in between errands. The internet is my biggest distraction so have recently added Offtime app to my phone to shut it down while I'm doing focused work. I'm trying to wean myself off the habit of checking my phone so frequently.
Any final thoughts or writerly words of wisdom you would like to share?
Be open to people you meet, the places you are in and even to the ideas that come to you.
Inspiration is everywhere.
Check out the book review of Red Dirt here or read a free sample of the book below..