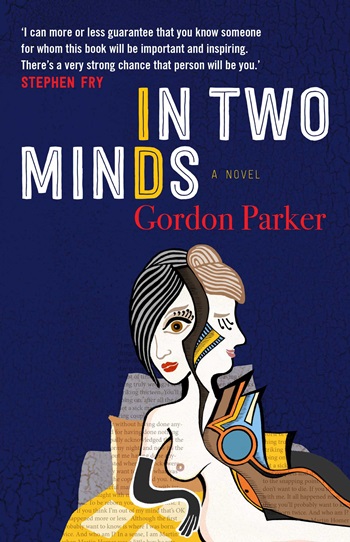 In Two Minds: A Novel
Fiction
Simon and Schuster
April 1, 2017
320

I can more or less guarantee that you know someone for whom this book will be important and inspiring. There's a very strong chance that person will be you.
~ Stephen Fry
Synopsis:
Dr Martin Homer is a GP with a naturally sunny disposition. Honourable, attentive and trusted by his patients, Martin has only ever loved one woman – his wife, Sarah. When his mother dies suddenly, Martin's comfortable life is thrown into disarray.
After sinking into the black dog of grief and depression, he ascends to new heights in a frenzied, manic high. Now, he's never felt better! In between riding his new skateboard around the streets at night and self-medicating from his stash at work, the artificially elated and self-entitled Martin crosses paths with Bella, a beautiful and sexual young woman profoundly damaged by trauma of her own.
In Two Minds takes you on a quirky, rollicking journey that unveils the complexities of mental illness with wit and warmth. Gordon Parker's impressive career in psychiatry reveals itself through extremely rich descriptions of depression, bipolar and borderline personality characteristics.
---
Book Review:
This book by Australian author Gordon Parker blew my mind because it hits home so hard. The novel focuses mainly on two characters, Dr Martin Homer (who is married to Sarah) and Bella whom he has a brief sexual encounter with while Sarah is on a business trip. Dr Homer prescribes himself tricyclics (anti-depressants) to deal with the guilt following the death of his mother whom he believes he may have prevented which leads to the unauthorised use of self-prescribed medication pushing him into a full-blown manic episode.
As the novel progresses Bella begins to show signs of borderline personality disorder and goes from being a seductress on the one hand to a highly manipulative woman on the other. Gordon Parker is a Professor of Psychiatry at the University of New South Wales and founder and Executive Director of the Black Dog Institute so writes not only with insight and clarity but with a high degree of knowledge of mood and personality disorders with the interplay between the two main characters in the novel drawn with stunning effect.
As a sidenote, the book cover is very clever, depicting the Madonna / Whore complex played out by the character Bella with the clever use of the word Id in the title to denote that part of our psyches which deals with desires and urge to seek out pleasure which is mostly balanced out by our superego.
Overall, I found this is a compelling read being both enlightening and engaging to the very end and very personal to me and I'm sure countless others in the wider community who deal with mood and personality disorders on a daily basis or have loved ones who face the challenges of mental health issues as well as the exceptionally high proportion of those in the creative fields who face mental health challenges (related link).
Read a free sample of In Two Minds: A Novel by Gordon Parker below..
If you or someone you know suffers from depression check out the Black Dog Institute website here.
---
Do you enjoy reading and talking about books? We are putting together a team of reviewers who are passionate about reading and sharing book reviews. Whether you are experienced in writing reviews, have a GoodReads account, or you just you enjoy reading and recommending books to others, we would love to hear from you!
Each review you write will be shared exclusively on our website for other book lovers to read. The top reviewer in our team who has written the most high-quality reviews will also receive a $100 Amazon gift-voucher and may even lead to a full-time paid book reviewer job.
Go to Book Reviewers Wanted to find out more.