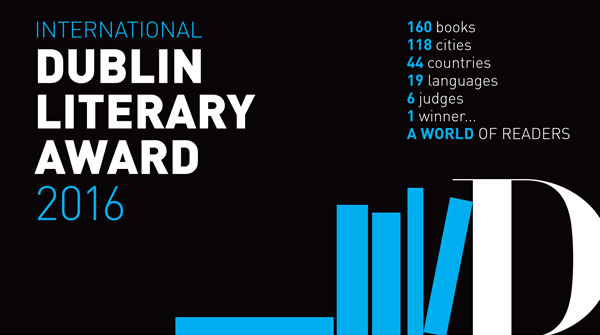 Book lovers everywhere will be pleased by the announcement of 160 books that have made the 2016 long list for the International Dublin Literary Award. The prestigious book award which in its 21st year is among the lengthiest in its already distinguished history.
53 titles which have been translated from other languages have been nominated which seems appropriate for an award which has done much to champion diversity in literature.
Two previous winners, Norwegian writer Per Petterson who won in 2007 and the 2006 winner Colm Tóibín are again nominated for the world's richest literary prize
There are seven Irish writers on the list including:
Nora Webster by Colm Tóibín
The Temporary Gentleman by Sebastian Barry
Academy Street by Mary Costello
The Undertaking by Audrey Magee
Unravelling Oliver by Liz Nugent
The Thrill of it All by Joseph O'Connor
The Diary of Mary Travers by Eibhear Walshe
25 British novels are in the running:
The Zone of Interest by Martin Amis
The Incarnations by Susan Barker
The Miniaturist by Jessie Burton
Ghost Moon by Ron Butlin
Outline by Rachel Cusk (born in Canada)
The Silkworm by Robert Galbraith
Little Egypt by Lesley Glaister
The Amber Fury by Natalie Haynes
Elizabeth is Missing by Emma Healey
Last Bus to Coffeeville by J Paul Henderson
Fallout by Sadie Jones
The Love Song of Miss Queenie Hennessy by Rachel Joyce
The Children Act by Ian McEwan
The Bone Clocks by David Mitchell
How to Build a Girl by Caitlin Moran
Us by David Nicholls
Boy, Snow, Bird by Helen Oyeyemi
The Bees by Laline Paull
In the Light of What We Know by Zia Haider Rahman
Notes from Underground by Roger Scruton
How To Be Both by Ali Smith
Completion by Tim Walker
The Legacy of Elizabeth Pringle by Kirsty Wark
Their Lips Talk of Mischief by Alan Warner
The Paying Guests by Sarah Waters
Of the 160 book nominated, there are ten novels by Australian authors:
Cairo by Louis Armand
Cicada by Moira McKinnon
Here Come the Dogs by Omar Musa
Lost and Found by Brooke Davis
The Claimant by Janet Turner Hospital
The Eye of the Sheep by Sofie Laguna
The Golden Age by Joan London
The Golden Boys by Sonya Hartnett
The Strays by Emily Bitto
What Came Before by Anna George
Three books from New Zealand writers were nominated:
Of Things Gone Astray by Janina Matthewson
The Bright Side of My Condition by Charlotte Randall
Where the Rēkohu Bone Sings by Tina Makereti
Also among the nominees are 2015 Man Booker Prize winner A Brief History of Seven Killings by Marlon James and Pulitzer winner All the Light We Cannot See by Anthony Doerr.
Full List of Nominations
The King by Kader Abdolah – translated from Dutch by Nancy Forest-Flier
The Michelangelo Code by Nazehran Jose Ahmad – translated from Malay by Anis Mansor
An Unnecessary Woman by Rabih Alameddine
Song of the Shank by Jeffery Renard Allen
The Zone of Interest by Martin Amis
Cairo by Louis Armand
The Incarnations by Susan Barker
The Temporary Gentleman by Sebastian Barry
A Fairy Tale by Jonas T. Bengtsson – translated from Danish by Charlotte Barslund
Above the East China Sea by Sarah Bird
The Strays by Emily Bitto
Life Drawing by Robin Black
Rapids by Patrick Boltshauser – translated from German by Peter Arnds
Texas: the great theft by Carmen Boullosa – translated from Spanish Samantha Schnee
The Miniaturist by Jessie Burton
Ghost Moon by Ron Butlin
Bonita Avenue by Peter Buwalda – translated from Dutch by Jonathan Reeder
Confessions by Jaume Cabré – translated from Catalan by Mara Faye Lethem
Outlaws by Javier Cercas – translated from Spanish by Anne McLean
Gutenberg's Apprentice by Alix Christie
Prayers for the Stolen by Jennifer Clement
Adultery by Paulo Coelho – translated from Portuguese by Margaret Jull Costa & Zoë Perry
Tales of the Metric System by Imraan Coovadia
Academy Street by Mary Costello
Sweetland by Michael Crummey
The Snow Queen by Michael Cunningham
Outline by Rachel Cusk
Lost & Found by Brooke Davis
News from Berlin by Otto de Kat – translated from Dutch by Ina Rilke
Tiger Milk by Stefanie de Velasco – translated from German by Tim Mohr
The Enchanted by Rene Denfeld
The Truth about the Harry Quebert Affair by Joël Dicker – translated from French by Sam Taylor
All the Light We Cannot See by Anthony Doerr
The Avenue of the Giants by Marc Dugain – translated from French by Howard Curtis
1914 by Jean Echenoz – translated from French by Linda Coverdale
Kamal Jann by Dominique Eddé – translated from French by Ros Schwartz
Your Fathers, Where Are They? And the Prophets, Do They Live Forever? by Dave Eggers
On Earth as It Is in Heaven by Davide Enia – translated from Italian by Antony Shugaar
The End of Days by Jenny Erpenbeck – translated from German by Susan Bernofsky
The Book of Strange New Things by Michel Faber
The Barefoot Queen by Ildefonso Falcones – translated from Spanish by Mara Faye Lethem
I Called Him Necktie by Milena Michiko Flašar – translated from German by Sheila Dickie
The Silkworm by Robert Galbraith
Blood-Drenched Beard by Daniel Galera – translated from Portuguese by Alison Entrekin
Who is Martha? by Marjana Gaponenko – translated from German by Arabella Spencer
The Great War by Aleksandar Gatalica – translated from Serbian by Will Firth
The Hilltop by Assaf Gavron – translated from Hebrew by Steven Cohen
An Untamed State by Roxane Gay
Live Bait by Fabio Genovesi – translated from Italian by Michael F. Moore
What Came Before by Anna George
Tree of Sorrow by Malim Ghozali PK – translated from Malay
Little Egypt by Lesley Glaister
Thai by Goran Gocić – translated from Serbian by Christina Pribichevich Zorić
All Russians Love Birch Trees by Olga Grjasnowa – translated from German by Eva Bacon
Falling Out of Time by David Grossman – translated from Hebrew by Jessica Cohen
The Hollow Ground by Natalie S. Harnett
Golden Boys by Sonya Hartnett
A Man Came Out of a Door in the Mountain by Adrianne Harun
The Amber Fury by Natalie Haynes
Elizabeth is Missing by Emma Healey
This Should Be Written in the Present Tense by Helle Helle – translated from Danish by Martin Aitkin
Fourth of July Creek by Smith Henderson
Last Bus to Coffeeville by J. Paul Henderson
The Claimant by Janette Turner Hospital
The Blazing World by Siri Hustvedt
The Scribe by Sobani Iddamalgoda
Song for an Approaching Storm by Peter Fröberg Idling – translated from Swedish by Peter Graves
Natchez Burning by Greg Iles
The Dead Lake by Hamid Ismailov – translated from Russian by Andrew Bromfield
Memory of Water by Emmi Itäranta – translated from Finnish by Emmi Itäranta
A Brief History of Seven Killings by Marlon James
The Girl Who Saved the King of Sweden by Jonas Jonasson – translated from Swedish by Rachel Willson-Broyles
Fallout by Sadie Jones
The Love Song of Miss Queenie Hennessy by Rachel Joyce
F by Daniel Kehlmann – translated from German by Carol Brown Janeway
The Invention of Wings by Sue Monk Kidd
Euphoria by Lily King
The Back of the Turtle by Thomas King
Summer House with Swimming Pool by Herman Koch – translated from Dutch by Sam Garrett
The Eye of the Sheep by Sofie Laguna
The Moor's Account by Laila Lalami
Uncle Brother by Barbara Lalla
The Texture of Shadows by Mandla Langa
Diary of the Fall by Michel Laub – translated from Portuguese by Margaret Jull Costa
On Such a Full Sea by Chang-rae Lee
10:04 by Ben Lerner
The Golden Age by Joan London
The Undertaking by Audrey Magee
Placebo: The Beauty and Horror of Lies by Sead Mahmutefendić – translated from Bosnian by Marina Cotic & Marija Vujica
Where the Rēkohu Bone Sings by Tina Makereti
Station Eleven by Emily St. John Mandel
Very Little Light by Vladan Matijević – Serbian by Persida Bošković
Of Things Gone Astray by Janina Matthewson
Limbo by Melania G. Mazzucco – Italian by Virginia Jewiss
The Children Act by Ian McEwan
Cicada by Moira McKinnon
Rachel's Blue by Zakes Mda
All Our Names by Dinaw Mengestu
Us Conductors by Sean Michaels
The Bone Clocks by David Mitchell
How to Build a Girl by Caitlin Moran
Invisible Beasts by Sharona Muir
Our Lady of the Nile by Scholastique Mukasonga – translated from French by Melanie Mauthner
The Lives of Others by Neel Mukherjee
Colorless Tsukuru Tazaki and His Years of Pilgrimage by Haruki Murakami – translated from Japanese by Philip Gabriel
Here Come the Dogs by Omar Musa
The Luminous Heart of Jonah S. by Gina B. Nahai
Talking to Ourselves by Andrés Neuman – translated from Spanish by Nick Caistor & Lorenza Garcia
Everything I Never Told You by Celeste Ng
Us by David Nicholls
Unravelling Oliver by Liz Nugent
The Thrill of it All by Joseph O'Connor
Dept. of Speculation by Jenny Offill
The Girl Who Was Saturday Night by Heather O'Neill
Boy, Snow, Bird by Helen Oyeyemi
The Bees by Laline Paull
I Refuse by Per Petterson – translated from Norwegian by Don Bartlett
Fives and Twenty-Fives by Michael Pitre
Orfeo by Richard Powers
In the Light of What We Know by Zia Haider Rahman
The Bright Side of my Condition by Charlotte Randall
White Lama by Merab Ratishvili – translated from Georgian by Natia Badriashvili
See You Tomorrow by Tore Renberg – translated from Norwegian by Seán Kinsella
Lila by Marilynne Robinson
Severina by Rodrigo Rey Rosa – translated from Spanish by Chris Andrews
Last Night at the Blue Angel by Rebecca Rotert
The Slow Regard of Silent Things by Patrick Rothfuss
Lock In by John Scalzi
The Giraffe's Neck by Judith Schalansky – translated from German by Shaun Whiteside
Nowhere People by Paulo Scott – translated from Portuguese by Daniel Hahn
Notes from Underground by Roger Scruton
Ten Women by Marcela Serrano – translated from Spanish by Beth Fowler
Family Life by Akhil Sharma
The Mysterious Ailment of Rupi Baskey by Hansda Sowvendra Shekhar
The Heist by Daniel Silva
Some Luck by Jane Smiley
How to be both by Ali Smith
I Loved You More by Tom Spanbauer
All Days Are Night by Peter Stamm – translated from German by Michael Hofmann
Who by Fire by Fred Stenson
We Are Not Ourselves by Matthew Thomas
A Man Lies Dreaming by Lavie Tidhar
House of Purple Cedar by Tim Tingle
All My Puny Sorrows by Miriam Toews
Nora Webster by Colm Tóibín
Christ's Entry into Brussels by Dimitri Verhulst – translated from Dutch by David Colmer
Look Who's Back by Timur Vermes – translated from German by Jamie Bulloch
Completion by Tim Walker
The Diary of Mary Travers by Eibhear Walshe
The Legacy of Elizabeth Pringle by Kirsty Wark
Their Lips Talk of Mischief by Alan Warner
The Paying Guests by Sarah Waters
Will Starling by Ian Weir
Small Blessings by Martha Woodroof
Land of Love and Drowning by Tiphanie Yanique
Decompression by Juli Zeh – translated from German by John Cullen
The Lobster Kings by Alexi Zentner
The Storied Life of A.J. Fikry by Gabrielle Zevin
The Night Watchman by Richard Zimler