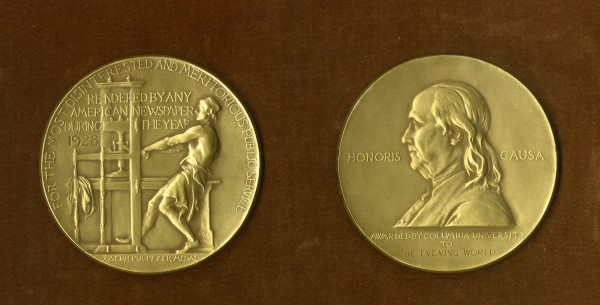 Courtesy Columbia University
The Pulitzer Prizes have been announced on what would have been Joseph Pulitzer's 170th birthday. The Prize is awarded to recipients for achievements in newspaper, magazine and online journalism, literature, and musical composition in the United States.
The announcement for the 101st Pulitzer Prize winners was made by Pulitzer Prize administrator Mike Pride during a ceremony at Columbia University's Pulitzer Hall in New York.
Winning Authors & Categories
Fiction
Colson Whitehead won for The Underground Railroad (Doubleday) in the fiction category, which has been described as "a smart melding of realism and allegory that combines the violence of slavery and the drama of escape in a myth that speaks to contemporary America." Whitehead has become the seventh author to win the NBA and Pulitzer (he won the 2016 National Book Award for fiction for his novel) for the same book.
Drama
Lynn Nottage won for Sweat, "a nuanced yet powerful drama that reminds audiences of the stacked deck still facing workers searching for the American dream."
History
Heather Ann Thompson won for Blood In the Water: The Attica Prison Uprising of 1971 and Its Legacy (Pantheon), "a narrative history that sets high standards for scholarly judgment and tenacity of inquiry in seeking the truth about the 1971 Attica prison riots."
Biography/Autobiography
Hisham Matar won for The Return: Fathers, Sons and the Land In Between (Random House), "a first-person elegy for home and father that examines with controlled emotion the past and present of an embattled region."
Poetry
Tyehimba Jess won for Olio (Wave Books), "a distinctive work that melds performance art with the deeper art of poetry to explore collective memory and challeng contemporary notions of race and ."
General Non-Fiction
Matthew Desmond won for Evicted: Poverty and Profit in the American City (Crown), "a deeply researched exposé that showed how mass evictions after the 2008 economic crash were less a consequence than a cause of poverty."