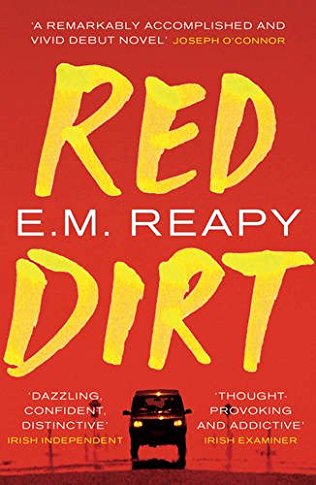 Red Dirt
Head of Zeus
June 2, 2016
Digital & Paperback
255

Synopsis:
Three young Irish people have come to Australia, running from the economic ruins of their home country and their own unhappy lives. In this promised land, stunned by the heat and the vast arid space of the interior, they each try to escape their past in a chaotic world of backpacker hostels, huge fruit farms and squalid factories, surrounded by new friends who are even more damaged and dangerous than they are themselves. Endless supplies of cheap drink and drugs loosen what little sense of responsibility they have, and a spiral of self-destructive behaviour forces each of them to face up to the reality of their lives.
This is a story of the consequences of impulsive choices and of the places where they lead. A vulnerable young man is left alone by his friends in a remote wilderness; a desperate girl puts herself into the hands of violent sex traffickers; a once-privileged favourite son lets a drunken quarrel escalate to murder. An utterly compelling, readable novel that hooks from the first page and immerses us in an all-too topical nightmare.
---
Book Review:
There have been quite a number of books written about the immigrant experience but none as fast-paced and riveting as Red Dirt, a debut novel by E.M. Reapy, which tells the story of three Irish people escaping their recession ravaged country to find a better life in Australia. The story is told in three parts (Me, You & Them) from the point of view of Murph, Fiona and Hopper who are unknown to each other until their lives intersect while backpacking around Australia.
Away from the familiarity of home they are each like strangers in a strange land. Their main pursuit seems to be getting out of their heads on 'goon' and drugs while trying to make sense of the crazy circumstances they find themselves in. Once you begin to peel away the layers it becomes clear that there is more than mere nihilism fuelling their alcohol and drug binges but a deep urge to escape the demons of their past and a desire to make a better life for themselves. This is where the author really excels, in creating realistic characters who are both messed up but strangely compelling at the same time.
The middle part of the story, told from the perspective of Fiona, is narrated in second-person point of view. At first I thought that reading from this point of view would be a challenge given that it is hardly ever pulled off successfully but I ended up finding this part of the book the most engaging. Like the other two characters, Fiona also has an 'interesting back-story' which seems to attract the very thing she is trying to escape.
Reapy's ability to create narrative tension is outstanding. Throughout the entire book there is an overlay of apprehension and dread that doesn't let up until the very end. I literally felt like I was on some kind of mind-bending journey through the beauty and terror of Australia with Reapy's acute observation skills being exemplified through the realistic settings the characters find themselves in from desolate outback fruit farms to non-stop house parties in Sydney.
This book is quite dark with some confronting scenes but stands in stark contrast to the books that came out prior to the crash of 2008 when according to Irish novelist Julian Gough, Irish literature had gotten smug and self-congratulatory during the boom, and then things changed utterly for so many people in Ireland with families being torn apart by economic circumstances. E.M. Reapy speaks to this 'lost generation' of young Irish economic migrants and represents a new and exciting voice in 'post boom' Irish literature.
Check out the interview with E.M. Reapy here or read a free sample of Red Dirt below..
Read The Hero Returns (related link)
---
Do you enjoy reading and talking about books? We are putting together a team of reviewers who are passionate about reading and sharing book reviews. Whether you are experienced in writing reviews, have a GoodReads account, or you just you enjoy reading and recommending books to others, we would love to hear from you!
Each review you write will be shared exclusively on our website for other book lovers to read. The top reviewer in our team who has written the most high-quality reviews will also receive a $100 Amazon gift-voucher and may even lead to a full-time paid book reviewer job.
Go to Book Reviewers Wanted to find out more.