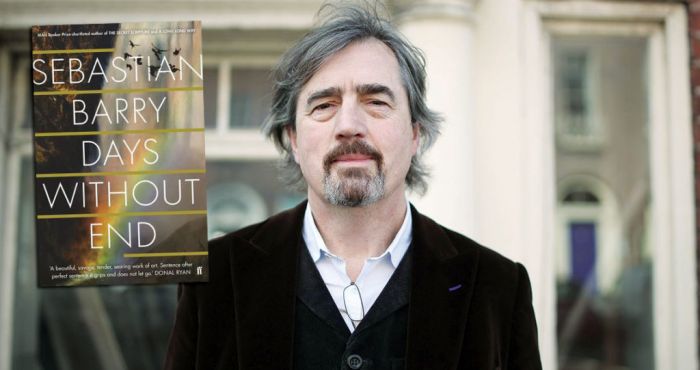 Irish author Sebastian Barry has been announced as the winner of the annual IBW Book Award, Adult Category, for his novel Days Without End. His win kicks off the Independent Bookshop Week (IBW) and is the second consecutive year that the award has gone to an Irish writer – Anne Enright winning in 2016 for her novel The Green Road. The winner of the Children's award was A Poem for Every Night of the Year by Allie Esiri, and winner of the Picture Book category was Tidy by Emily Gravett.
Sebastian Barry said he was "thrilled, strengthened and improved" by receiving the award and expressed his wish for indie bookshops to thrive until "the end of time" and also went on to say; "if books constitute a magical religion that doesn't persecute anyone, then obviously a bookshop is a radiant chapel of that religion. In this strange new world the importance of books and bookshops has taken a quantum leap. I am thrilled, strengthened and frankly improved by receiving this award from this Atlas-like sector of society — may independent bookshops thrive, and indeed be nurtured, till the end of time."
Barry, who was also named the overall Costa Book of the Year for his novel set against the American Indian and Civil Wars, was chosen alongside poetry book A Poem for Every Night of the Year, edited by Allie Esiri (Macmillan Children's Books) and in the picture book category Tidy by Emily Gravett (Macmillan Children's Books).
The Independent Bookshop Week 2017 judging panel was chaired by BA President, Rosamund de la Hey. The Adult Category judges were Anna James, blogger, author and reviewer; Tim O'Kelly, One Tree Books, Petersfield; Fleur Sinclair, Sevenoaks Bookshop and Robert Penn, author, photographer and broadcaster. The Children's and Picture Book Category judges were David Litchfield, author of The Bear & The Piano; Alex Strick, diversity in children's books campaigner and head of Inclusive Minds; Sanchita Basu de Sarka, Children's Bookshop, Muswell Hill and Victoria Rossiter, Rossiter's Bookshop, Monmouth & Ross on Wye.
Click here for more on the Independent Bookshop Week
Read a sample of Days Without End be Sebastian Barry below..