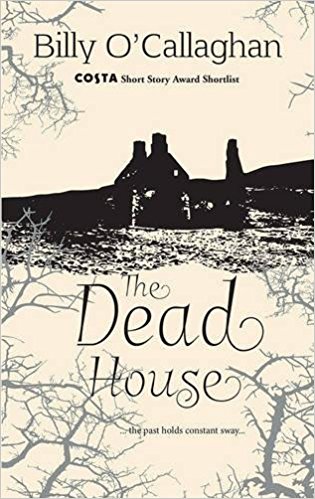 The Dead House
Brandon
May 1, 2017
Digital & Hardback
208

Synopsis:
Attempting to rebuild her life after a violent relationship, Maggie Turner, a successful young artist, moves from London to Allihies and buys an ancient abandoned cottage. Keen to concentrate on her art, she is captivated by the wild beauty of her surroundings.
After renovations, she hosts a house-warming weekend for friends. A drunken game with a Ouija board briefly descends into something more sinister, as Maggie apparently channels a spirit who refers to himself simply as 'The Master'. The others are visibly shaken, but the day after the whole thing is easily dismissed as the combination of suggestion and alcohol.
Maggie immerses herself in her painting, but the work devolves, day by day, until her style is no longer recognisable. She glimpses things, hears voices, finds herself drawn to certain areas: a stone circle in the nearby hills, the reefs at the west end of the beach behind her home ... A compelling modern ghost story from a supremely talented writer.
---
Book Review:
I've been an admirer of Billy O'Callaghan's short stories for some time and was looking forward to the release of his début novel The Dead House for months. Billy is an accomplished writer who has a natural ability to be able to create all-too-human characters so reading a novel about ghosts was somewhat of a break from his award winning short-story collections such as The Things We lose, The Things We Leave Behind.
When most readers think of ghost stories they automatically think of clichéd spectral apparitions appearing in haunted houses which most will agree has been done to death! But this story is different. Yes, there are spectral apparitions appearing in haunted houses but the story is delivered in a way that makes you doubt the sanity of the characters and also question whether you as a reader, believe in ghosts.
The story begins when friends Mike, Maggie, Alison and Liz meet up for Maggie's house-warming after she decided to leave her old life and abusive ex behind to live the life of an artist in a cottage in the remotest part of West Cork. After having a few drinks, Liz pulls out a Ouija board, as you do after a bout of whisky. What starts off as a bit of harmless entertainment soon takes a nasty turn.
I've only ever dabbled with a Ouija board once and have to admit it scared the bejeeepers out of me. The Dead House captures this primal fear and fills you with a psychological dread that is hard to shake. I'm not usually phased by scary movies or ghost stories but found this story genuinely creepy, even to the point of having a nightmare after reading it.
There are writers who call themselves authors or refer to themselves as novelists. Then there are natural born storytellers who have an innate talent for understanding the human mind and being able to weave it together with archetypes and myth. Billy O'Callaghan is one of those types of storytellers whose prowess is clearly on display with his impressive début novel.
I suppose, in the final analysis, this story will hang on a single burning question:
Do you believe in ghosts?
Read a free sample of The Dead House below..
---
Do you enjoy reading and talking about books? We are putting together a team of reviewers who are passionate about reading and sharing book reviews. Whether you are experienced in writing reviews, have a GoodReads account, or you just you enjoy reading and recommending books to others, we would love to hear from you!
Each review you write will be shared exclusively on our website for other book lovers to read. The top reviewer in our team who has written the most high-quality reviews will also receive a $100 Amazon gift-voucher and may even lead to a full-time paid book reviewer job.
Go to Book Reviewers Wanted to find out more.