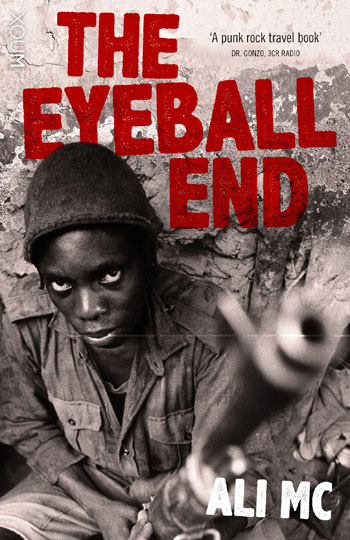 The Eyeball End
Memoir
Xoum Publishing
August 1, 2015
Digital & Paperback
254

Beginning with an acid-fuelled night in the Kimberley, the first decade of the 21st century sees Ali MC travelling the globe in an attempt to understand the forgotten corners of the world. Although he is beaten and shot at along the way, Ali encounters some of the most enduring stories the so-called Third World can produce. The Eyeball End steps away from the safety net of well-worn travel guides, taking the reader on a unique and challenging journey into the human condition.
---
Book Review:
The Eyeball End begins with a head-wrecking acid trip somewhere in the Kimberley which sets the stage for a decade long trip to some of the most impoverished and war-torn places around the world. Ali MC's journey kicks off in Asia where he wastes no time in immersing himself in the local culture and getting down with the natives. His ability to make friends quickly and street-smarts not only allows him to venture into the seedier sides of town where tourists rarely venture into but also saves his ass on more than one occasion.
I'd landed in Bangkok just hours earlier and was now standing in the tourist epicentre of South East Asia eating a cheeseburger. Khao San Road, littered with tourist trash from across the globe, represents all that is wrong with Thai hyper-tourism, but it makes for great viewing.. 
The sights and sounds of each place he tips up in are all vividly described but I soon grew exasperated by his fetish for poverty stricken ghettos and towns ripped apart by genocide and war. His descriptions of the genocide in Rwanda in particular seemed to lack the emotional effect you would expect from such an appalling event. In an era of internet memes and slogans such as #BlackLivesMatter these long forgotten crimes against humanity came across almost as mundane.
These were the people that once had hopes and dreams, a mind that could love and heart that could play tricks on you. Some of the bodies were naked, while coloured scraps of clothing clung to others. I noticed one which still had tufts of curly black hair on its head and another, a cross around its neck. All more the same tragic, terrified expression on their lime-white faces – more of a question than an expression – the question of why?
Each time Ali returns to Australia, which he describes as an ocker Disneyland, he would invariably fall into a hole and start planning his next trip to the most poverty or war ravaged region he could find.
When I returned Australia felt bleached of colour and I became enveloped by a deep depression, spending too much time propped up against the local bar.
Throughout the whole book I couldn't shake the feeling that Ali was some kind of genocide junkie or whether his trips represented some kind of voyage into his own personal 'heart of darkness'.
So the Heart of Darkness has internet. Neat.
Overall it had its moments and I have to give props to Ali for putting himself in such dangerous situations. The Eyeball End may blur the lines between gonzo journalism and personal memoir but definitely takes no prisoners.
---
Do you enjoy reading and talking about books? We are putting together a team of reviewers who are passionate about reading and sharing book reviews. Whether you are experienced in writing reviews, have a GoodReads account, or you just you enjoy reading and recommending books to others, we would love to hear from you!
Each review you write will be shared exclusively on our website for other book lovers to read. The top reviewer in our team who has written the most high-quality reviews will also receive a $100 Amazon gift-voucher and may even lead to a full-time paid book reviewer job.
Go to Book Reviewers Wanted to find out more.