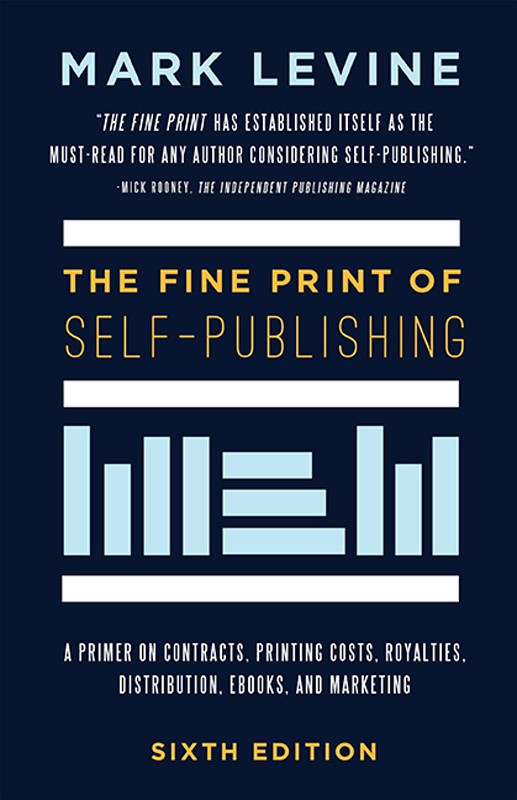 The Fine Print of Self-Publishing
Non-Fiction
North Loop Books
6th edition (June 5, 2016)
Digital & Paperback
307

The Fine Print of Self-Publishing, now in its sixth edition, has been lauded by industry professionals as the go-to book for authors considering self-publishing. The Fine Print has helped thousands of authors understand self-publishing companies' services, contract terms, printing markups, and royalty calculations. This latest edition includes new chapters on e-book publishing and book marketing, as well as updated head-to-head comparisons of major self-publishing service providers, including free book-publishing companies to consider and self-publishing companies to avoid.
REVIEW:
Self-publishing has exploded onto the scene in recent years with the popularity of e-books, Amazon KDP and print-on-demand services driving it. As a result there has been a rush of self published books into the market. With any new technology comes the hucksters in the form of author/entrepreneurs on the one hand selling the false dream of self-publishing your own book and getting rich, and dodgy publishing companies on the other, taking advantage of neophytes by cashing in on their ignorance. What I found is that there is a shortage of well written books by those with experience in the field of book publishing, marketing, printing and distribution services to help independent and unrepresented authors navigate through the process of self-publishing.
In The Fine Print of Self-Publishing, Mark Levine, a Minnesota based author and CEO of a book publishing technology company, examines the fine print behind what publishers do and don't tell you on their websites. He teaches you how to ask publishers the right questions and to be aware of hidden sales techniques used by certain self-publishing companies to get you into signing a publishing contract without full disclosure. Many first-time writers and those eager to have their book published are often sucked in by high pressure sales reps who will convince the first-time author that they are losing money by not publishing their book straight away or heaping praise on them to cajole them to signing a contract without even reading their manuscript.
The following chapters (below) are all backed up with a wealth of useful resources listed in the appendices:
The Basics of Self-Publishing
Self-Publishing Essentials
From Manuscript to Publication
The Profile of a great Self-publishing Company
The Fine Print of Publishing Contracts
E-Book Publishing
Marketing Your Book
Apples to Apples Comparison of major Self-publishing Companies
Conclusion
What I really liked about this book was the way Levine explains everything in easy to understand terms and gives a realistic view of the self publishing industry minus the hype. He highlights the most important things to look out for before signing a contract which doesn't require a degree in law or applied mathematics in order to understand and goes on to show how publishers can pull the wool over your eyes in any number of ways with excessive printer markups, royalties that sound too good to be true, and not releasing production files without a fee should you decide to end the contract.
I'll admit that there were many aspects of self-publishing which I wasn't aware of let alone the dubious practices carried out by some fly-by-night self-publishing operations. There is so much useful information packed into this book that could literally save those planning on self-publishing their own book thousands of dollars by deciding to go with a particular self publishing company. Even if you only got one useful piece of information that one piece of advice will cover the cost of purchase of this book many times over and untold hassle from publishers.
Highly recommended for those considering self-publishing.
Click below to read a sample of sixth edition of The Fine Print of Self Publishing.