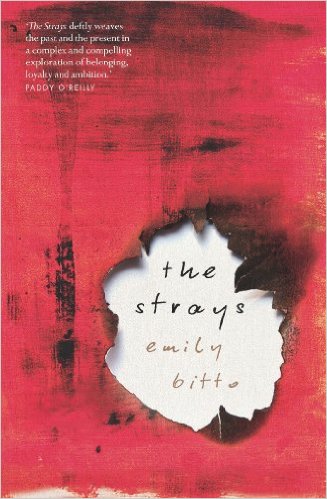 The Strays
Coming-of-Age, Fiction, Literary
Affirm Press
April 30, 2014
Digital & Paperback
244

Synopsis:
On her first day at a new school, Lily meets Eva, one of the daughters of the infamous avant-garde painter Evan Trentham. He and his wife are attempting to escape the stifling conservatism of 1930s Australia by inviting other like-minded artists to live and work with them at their family home. As Lily's friendship with Eva grows, she becomes infatuated with this makeshift family and longs to truly be a part of it.
Looking back on those years later in life, Lily realises that this utopian circle involved the same themes as Evan Trentham's art: Faustian bargains and terrible recompense; spectacular fortunes and falls from grace. Yet it was not Evan, nor the other artists he gathered around him, but his own daughters, who paid the debt that was owing. The Strays is an engrossing story of ambition, sacrifice and compromised loyalties from an exciting new talent.
---
Book Review:
The Strays is a coming-of-age story centred around an artist's circle which formed in the Trentham homestead in Melbourne during the 1930s. The novel is narrated by Lily, in 1985, who is by then a middle-aged woman and is a reflection of her life and involvement with the Trenthams and the artists who became known as 'the circle'.
Lily looks back to where it all began on her first day of school where she met Eva, one of the daughters of modernist painter, Evan Trentham. She soon finds herself developing an inseparable friendship with Eva and spending more time at the Trentham's than with her own parents whom she begins to regard as too conventional compared to the bohemian types she encounters in the fledgling artist commune. After her father is injured in a workplace accident she is invited by Helena, the wife of Evan, to move in.
When was it that I became a voyeur in their midst? I was the perfect witness, an unsuspecting anthropologist disguised within the body of a young girl, surrounded by other young girls which were part of the family. Yet I was a cuckoo in the nest, an imposter who listened and observed, hoarding and collecting information.
The story is based loosely on the Australian art movement known as the Heide Circle. Those familiar with the artists from this movement will probably enjoy guessing who the various players are. With that in mind it would be tempting to read The Strays like a thinly veiled biography of a famous artist or art movement but as you are drawn into the story you begin to appreciate that the real power of fiction is in its ability to reveal the truth within the lie without the obvious limitations (or repercussions) of writing a biography.
Bitto's strength as a writer is displayed throughout with her well crafted characters which are explored through Lily's keen powers of observation and revealing insights of the Trenthams and the other strays which inhabit her world, fleshing them out with the depth and presence needed for the reader to become fully immersed into their lives. All their flaws and foibles are laid bare and they are at once, darlings of the art-world whose light burns brightly, or distant stars whose light is barely perceptible.
In fact it is the distance between Lily and those around her which is brought most clearly into focus. Lily never quite manages to connect with Evan or Helena Trentham, even though it is Helena who takes her into her home which is described as a refuge from the tyrannies of the world but seems to be built on constantly shifting sands. That very same distance is also felt by the daughters, Bea, Eva and Heloise, towards their parents whom they seem to view as little more than an inconvenience or disruption to their artistic pursuits and are constantly ignored or condescendingly referred to as 'progeny' in front of the others.
The setting where events take place is one in which wild parties are a regular occurrence invariably resulting in parental responsibility taking a back seat while the children are exposed to the bizarre antics of the 'grown-ups' and end up experimenting with alcohol and illicit substances under the noses of their parents. Family dinners are typified by long-winded discussions on modern art and peppered with radical discussion but ironically are occasions where the children are preferred to be seen and not heard by Evan and Helena.
There are a number of different themes explored such as friendship and the bonds made between girls in particular which will be immediately relatable to many. This unspoken loyalty between friends, which should be enduring but all too often isn't, is delved into with the subsequent acts of betrayal and lies whose fallout and wounds can take decades to heal. The importance of family and the need to belong are also dealt with masterfully by Bitto and it was this aspect of the novel which I identified with the most.
I glimpsed the shame and humiliation on her face, and I understood that, for Eva, seeing Bea was like facing a loving mother after having disappointed her, struck out alone and returned empty-handed. But Bea knew how to handle Eva, and I saw too, in that moment, what family is for.
An important question which was raised was the dichotomy between the conventional life versus the pursuit of an artistic life and if living the life of an artist is worth alienating your children and possibly leaving them with long-term psychological issues? Clearly life in 'the circle' left a deep and lasting impressions upon all of the children involved and had a generational impact..
The Hero Returns (related link)
Tonight Lucinda pierced that fleshly, maternal armour because the desire to lead an unconventional life is in her too, that reverence towards the daring, the creative, the extraordinary.
The Strays is an impressive debut by Emily Bitto who writes with a certain self-assuredness and style. It was the 2015 winner of The Stella Prize and I can see it being a major contender for other literary awards such as the International Dublin Literary Awards and others.
---
Do you enjoy reading and talking about books? We are putting together a team of reviewers who are passionate about reading and sharing book reviews. Whether you are experienced in writing reviews, have a GoodReads account, or you just you enjoy reading and recommending books to others, we would love to hear from you!
Each review you write will be shared exclusively on our website for other book lovers to read. The top reviewer in our team who has written the most high-quality reviews will also receive a $100 Amazon gift-voucher and may even lead to a full-time paid book reviewer job.
Go to Book Reviewers Wanted to find out more.