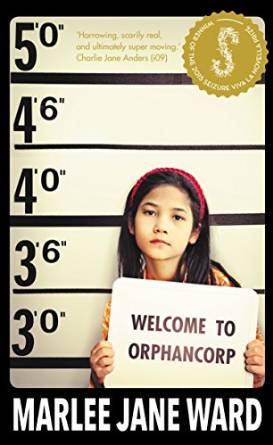 Welcome to Orphancorp
Dystopian
Seizure
August 23, 2015
Digital & Paperback
130

Synopsis:
Winner of the 2015 Seizure Viva La Novella Prize A sharp-edged semi-futuristic riff about a rebellious teenager's last week at an industrial orphanage. 'Takes all of your dystopian nightmares and connects them to a mother lode of pure emotional intensity. There's so much keen detail here about the cruel logic of oppressive institutions, you'll feel Mirii's yearning for freedom in your bones - and you'll rejoice at every tiny moment of escape that she achieves.
---
Book Review:
Welcome to Orphancorp is the story of the final seven days spent in an Orphancorp told from the point of view of Mirii Maloney who is one of the orphans in what could be described as a prison-industrial complex for kiddies. Mirii has spent most of her life in one of these dehumanising compounds and has developed various coping mechanisms by putting on a front and running her mouth which frequently lands her in Time Out or facing correction punishment with the very ominous Consequences of Speech Violations.
No one makes eye contact with me. I'm not the one shackled … sorry facing Consequences, but I am the only one gagged. Sometimes my mouth just starts going and even though in my head I'm all like, 'shut up, oh just shut up', I can't help myself.
Mirii has only a vague recollection of her parents showing her love as a baby. It is these scraps of memory which drives her to seek out physical contact from both males and females in the facility. Her gnawing emptiness is only occasionally satisfied through brief interludes up against the wall or in the secret cuddle parties at night which often end up like teen orgies.
In an Orphancorp, there's not a lot of physical contact, and the touches we do get usually hurt. Without each other, maybe we'd go through life thinking that hands are just slaps and fists, not for grasping or stroking.
As life inside Orphancorp was revealed I was reminded of a documentary I watched years ago about an orphanage that was set up after the fall of Ceaușescu in Romania. Some of the scenes of 'Ceausescu's Children' which showed babies in appalling conditions inside an overcrowded and squalid orphanage were so harrowing that they haunted me for years after. The babies were completely deprived of contact with their 'carers' leaving them to rock mindlessly back and forth for hours on end or banging their heads off walls to get attention.
Sometimes here the hurt and good feelings get all mixed up. Sometimes they become the same thing. And sometimes you gotta feel your way out of the pain in your brain. There are lots of ways to do this. This is one.
This theme is explored in the story but with a slight difference. Even though the babies in Orphancorp are deprived of maternal care they are given minimal contact time with some of the teeners so they don't develop long-term psychological damage and end up being completely useless to a system which evidently treats them as little more than caged animals in an intensive factory farm.
Marlee Jane Ward's writing style is edgy which adds to the claustrophobic and oppressive atmosphere which seems to permeate the walls and ceilings like ghosts. In fact Welcome to Orphancorp reminded me of a film called Ghosts… of the Civil Dead where the inmates lose all legal recognition and are like ghosts trapped in some futuristic prison complex which brutalises and dehumanises them in equal measure.
These thick walls are full of fragments, little bits of everyone that's lost themselves in here. The time here diminishes a kid, takes away pieces they can't ever get back.
Ward manages to touch on some deeper philosophical themes which I was hoping would be more fully explored. Although there are glimpses of the human spirit woven throughout which stops the story from slipping into utter despair because somewhere in the further reaches of your mind you know that this type of institutionalised cruelty and inhumanity exists. I found Welcome to Orphancorp a very convincing story indeed.
Read a free sample of Welcome to Orphancorp below..
---
Do you enjoy reading and talking about books? We are putting together a team of reviewers who are passionate about reading and sharing book reviews. Whether you are experienced in writing reviews, have a GoodReads account, or you just you enjoy reading and recommending books to others, we would love to hear from you!
Each review you write will be shared exclusively on our website for other book lovers to read. The top reviewer in our team who has written the most high-quality reviews will also receive a $100 Amazon gift-voucher and may even lead to a full-time paid book reviewer job.
Go to Book Reviewers Wanted to find out more.