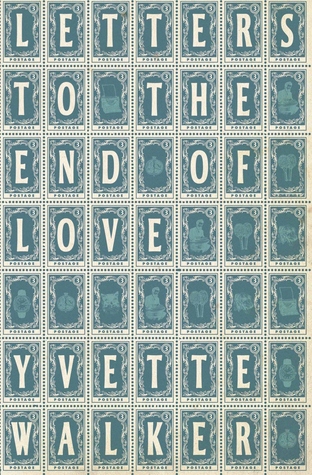 Letters to the End of Love
Literary Fiction
University of Queensland Press
July 1, 2013
Digital & Paperback
252

Synopsis:
Three stories, three secrets, and three marriages are the focus of this brilliantly written and literary debut novel. In a coastal village in Cork in 1969, a Russian painter and his Irish novelist wife write letters to one another as they try to come to terms with a fatal illness. On Australia's west coast in 2011, a bookseller writes to her estranged partner in an attempt to understand what has happened to their relationship. In Bournemouth in 1948, a retired English doctor writes letters to the love of his life, a German artist he lived with in Vienna during the 1930s. The simple domestic lives of these three couples are set against conversations about intimacy, art, war, and loss. Told in a series of unforgettable letters, this is a novel about love and what it means when it might be coming to an end.
---
Book Review:
Letters to the End of Love is a beautifully written epistolary novel by Australian author, Yvette Walker. The stories are divided into the Cork Letters, Bournemouth Letters and Perth Letters. Each of the letters focus on the individual stories of three separate sets of couples spanning different decades and although unconnected each explore in different ways the universality of love and ultimately of loss.
The Cork Letters written in 1969 are between Dmitri Palovich, an exiled Russian painter, and his wife Cathleen, who is an Irish writer. They are both coming to terms with Dmitri's terminal illness as they unravel their feelings for each other and attempt to say all the things that went unsaid throughout their marriage through their letters. Ordinary events, expressed as ordinary things and ordinary poetry, are imbued with meaning. Simple actions such as drinking tea or taking a walk are charged with a heightened sense of urgency and significance..
The dog and I, we have taken this walk every morning now for the past year, yet every morning is unique, every morning breaks open like a fresh egg.
The Cork Letters in particular really resonated with me given my connection to this part of the world. The author captures the landscape of West Cork and the character of the inhabitants of Corkonians wonderfully. Her writerly style shines through with each captured moment..
There's somewhere, isn't there, between the bones and the flesh – not quite the mind, not quite the soul, where we keep the feelings we can't bear to have, but there we must keep them, because they make us who we are. Those feelings sent me out to the Old Head today, to where the land breaks into the sky. Dmitri. There are a million things we both need to say..
The Bournemouth Letters were written in 1948, by John who is a retired English doctor to the love of his life David, a German artist whom he lived with in Vienna in the 1930's and who died as a result of the Nazi persecution of homosexuals. These letters written only by John are both poignant and filled with tenderness. John recalls the time they met in Vienna..
I have the ghost of you pressing against my ribs like deep water. It is only now, in this cardigan of a house that I begin to miss you, and grieve.
In the Perth letters written in 2011, the focus is on the relationship between two women: a bookseller called Grace, and her journalist partner Lou, who travels around the world with an up-and-coming musician. Grace feels a sense of emptiness with Lou's increasingly lengthy absences and begins to question the very foundations their relationship is built upon.
Being a bookseller in my younger days, I was enthralled by the description of the bookstore in Perth and the authors impressive knowledge of literature, particularly Russian writer Anna Akhmatova, as well as the references to other writers, and events of cultural significance, sprinkled throughout..
While we chatted, books landed on the counter like legs of lamb, Charmaine Clift, Eleanor Dark, Doris Lessing, Edna O'Brien, Iris Murdoch. I wrapped them in plain brown paper and sent them out into the world with their new readers.
Each letter is beautifully crafted and multi-layered. What I found interesting was the painting by Paul Klee called Ad Marginem which the couples have in common and overlays all of their lives adding an extra dimension. What also struck me as they unpack their memories of previous events is how they also begin to question the ability of words to convey the true meaning of their feelings..
I don't know, these letters were supposed to be about you, and me, they were supposed to be my gift to you, some kind of romantic gesture to let you know how much I still think of you when you're not here, how much I still wish you were here in the middle of the night when the world breaks into my mind like an ugly thief and I need you to get me back asleep. They were supposed to be a record, a study, a history of our romance, much longer than a decade now, a way to not let time get to what we have, but I have failed you know?
Actual historical events and the authenticity of the settings all give this book a heightened sense of realism. These letters demand to be read slowly and pondered. When I first started the book I was expecting a traditional love story but as I became engaged in the lives of those involved their stories began to reveal some profound insights into the nature of relationships and the vast ocean that can sometimes exist between people.
Yvette Walker captures the human condition exceptionally well and I can definitely see this literary gem being popular within book club circles and having a longevity that will endure for decades to come.
Letters to the End of Love won the WA Premier's Emerging Writers Award in 2014
---
Do you enjoy reading and talking about books? We are putting together a team of reviewers who are passionate about reading and sharing book reviews. Whether you are experienced in writing reviews, have a GoodReads account, or you just you enjoy reading and recommending books to others, we would love to hear from you!
Each review you write will be shared exclusively on our website for other book lovers to read. The top reviewer in our team who has written the most high-quality reviews will also receive a $100 Amazon gift-voucher and may even lead to a full-time paid book reviewer job.
Go to Book Reviewers Wanted to find out more.