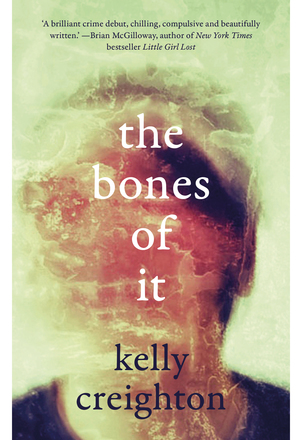 The Bones of It
Fiction
Liberties Press
May 2015
Digital & Paperback
240

Synopsis:
The Bones of It is a psychological crime thriller set in present day County Down, Northern Ireland. Sixteen years after the Good Friday Agreement, twenty-two-year-old Scott McAuley, son of ex-paramilitary Duke McAuley, pens diary entries. When Scott is ousted from his politics degree course in Newcastle for joyriding, he returns home to live with Duke for the first time in his memory. When Scott was a baby, loyalist paramilitary Duke was imprisoned for the murders of two young Catholic men and Scott's grandmother, Isla, became his guardian. Living with Duke, who has reformed and become a counsellor, Scott finds it difficult to deal with his father's abrasiveness.
Against this background, Scott begins his story by telling us about Klaudia, a Polish woman he worked with at a garden centre after he returned home from Newcastle. He says he wants to put his side of the story straight, as we may have read lies about their relationship in the press. Scott, having found a hair in the shower at his home, which he believed to be Klaudia's, had become convinced that Duke and Klaudia are seeing each other, it seems. As the narrative reveals, the twist in the book is reveals that Scott is currently in prison, whilst recalling the pivotal moments described that moulded him as a young man.
---
Book Review:
The Bones of It is a debut novel by Northern Ireland author, Kelly Creighton, which tells the story of Scott McAuley, written in the form of a diary revealing events which lead up to his imprisonment for the murder of two innocent people. Scott is very much an anti-hero, lacking in social skills and seemingly unable to develop healthy relationships with those around him. Through his diary entries we discover that his mother died suddenly when he was two years old and his father, an ex-paramilitary, was largely absent for most of his life after being convicted and imprisoned for murdering two Catholics.
Scott meets Klaudia, a Polish immigrant, in the garden centre he works at after he was kicked out of university in England. She is ten years his senior and shows a passing interest in Scott which he misconstrued as 'girlfriend material' and deludes himself into thinking that she is going to save him from a life of mediocrity. Eventually Scott's weirdness drives Klaudia away. As the story unfolds we start to get glimpses inside the paranoid mind of Scott who becomes increasingly apathetic and indifferent leading him into trouble on various occasions.
The conflict between Scott and his father Duke McAuley is what really propels the story arc forward. Duke is like a splinter in Scott's mind and constantly sneers at his green-tea-drinking, vegetarian son while Scott is driven around the bend by his father's oafishness and hypocrisy. You could almost be forgiven for feeling sorry for Scott for having a father like Duke until you start to notice that Scott himself seems to be devoid of empathy. This opens up the nature versus nurture debate and whether Scott's upbringing and lack of nurturing might've lead him to do the things he did.
Out of everybody I've hurt I'm sorry it wasn't him. If I could change anything, if I had a magic lamp, that's the wish I'd rub into it. It's like how I worried about the people that never had me in their thoughts, I went along, hurting the ones I loved, or liked, or was indifferent to. But da, he deserved to be hurt and he wasn't. Not badly enough. Maybe embarrassed, definitely lonely, but not tore up. Not nearly enough.
and then further on..
But now that I am a man, the thought of me, not as a defenseless abandoned toddler, but middle-class me – and grit-and-graft Duke McAuley's middle-class son, no less – was it more damaging in the long run? I mean, I was now a man. He had the time and the hindsight to look back and decide that a bit of hardship wouldn't have done me any harm. Would it have knocked the poncey, veggie, green-tea-drinking shite out of me? Maybe it would've.
Even though the book is billed as a crime / thriller novel it reads more like a psychological examination of a young man in turmoil who is struggling with family issues, identity, masculinity and finding his place in the world. The first person narrative adds an air of believability with snippets of actual events that took place in Northern Ireland peppered throughout the story giving it an extra layer of authenticity. Scott's persona is often despondent and morose at times but at other times his observations are brimming with insight and lucidity..
Read The Hero Returns (related link)
Yes, I studied politics, I know that's what people depend on, that the masses don't form an opinion, that they can be propaganda-led, that some people who are full of the gift of the gab can think through an idea and put it to everyone else, and that they'll be lazy and say, 'Sounds good to me.' People stop questioning things because they are too busy and they like having sides to take. And when they listen to both sides (the slightly smarter ones), they think 'Yes, I like that one better', they make monsters of one side and they latch themselves to the other, although there are pitfalls with both proposals. It's human nature and I'm not going to change what it is to be human, even if it is wrong.
The dialogue between Scott and the other characters, as well as his own interior monologues, are all sharply observed and filled with occasional black humour..
Everyone's talking about Ian Paisley dying. In a funny way I think they're grieving our past.
He came around in the long run. Gave it everything and then surrendered.
I picture Duke sitting at his bureau, feg stuck to his lip.
I'd be saying to him, 'Paisley did the right thing … at the end of his life.'
Duke'd say, 'Aye! He did, true enough … he died!'
Because despite all his peace talk, you see, Duke never really wanted it. Sometimes when you're given a gift you need to force a smile and at least pretend you're happy. If he wanted peace he'd seek it with me. But he won't.
So Duke McAuley can sleep well.
The bigot.
The instigator.
Triple-turned hoor.
Overall, The Bones of It is a gripping debut from Kelly Creighton, who is definitely a writer to keep an eye on.
Read a free sample of The Bones of It below..
---
Do you enjoy reading and talking about books? We are putting together a team of reviewers who are passionate about reading and sharing book reviews. Whether you are experienced in writing reviews, have a GoodReads account, or you just you enjoy reading and recommending books to others, we would love to hear from you!
Each review you write will be shared exclusively on our website for other book lovers to read. The top reviewer in our team who has written the most high-quality reviews will also receive a $100 Amazon gift-voucher and may even lead to a full-time paid book reviewer job.
Go to Book Reviewers Wanted to find out more.