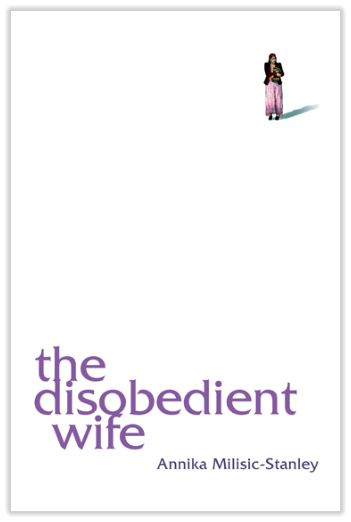 The Disobedient Wife
Literary Fiction
Cinnamon Press
November 9, 2015
Digital & Paperback
271

Synopsis:
The Disobedient Wife intertwines the narratives of a naïve, British expatriate, Harriet, and that of her maid Nargis, who possesses an inner strength that Harriet comes to admire as their lives begin to unravel against a backdrop of violence and betrayal.
Through Harriet's journal, we see Tajikistan through the eyes of an ex-secretary and diplomat's wife. She is blissfully unaware of the underground Islamism that threatens the stability of the iron regime and ignorant to the hardships that face the ordinary people in her employ.
By contrast, Nargis is a young, single mother supporting two children and elderly parents, tainted by scandal for leaving her abusive second husband. Harriet helps her start a business and Nargis starts to lift herself out of poverty, only to face new obstacles, becoming entangled with drug traffickers who threaten her life...
Rich with sense of place and deeply humane, Milisic-Stanley brings the acute observation of an artist and social anthropologist to bear on this moving and compelling story of how two women survive and thrive in difficult circumstances.
---
Book Review:
The Disobedient Wife weaves together the lives of two very different women. Harriet is a lonely, English expat living with her Belgian husband and two children in Tajikistan. In their employ is Nargis, a Tajikistani nanny who looks after their two children while Harriet swans around town getting her nails done, frequenting foreign restaurants and having cocktails with her other expat friends in an attempt to stave off her frustration and homesickness.
Nowadays, after years of living as a vulnerable expatriate, lost at sea, a 'stupid' foreigner, I trust no one, least of all myself. I'm like one of them now, those expatriate housewives I surround myself with, flailing about helplessly, the little power I have to affect change, wasted. I'm pathetic.
On the surface, the lives of Harriet and Nargis couldn't be any different. Harriet doesn't have any financial worries but feels held back in an unfulfilling life and marriage. She is a bit like a fish out of water in a repressive country such as Tajikistan. On the other hand, Nargis lives in a run-down mahalla (hamlet) with her parents and two children while doing her best to escape the clutches of her violent ex-husband who has custody of her third child. Harriet empathises with Nargis' struggle and does her best to help her out of a couple of tight situations much to Harriet's husband Henri's annoyance.
Tajikistan is a cruel place for a young woman who marries the wrong man.
In return, Nargis is a caring nanny to Harriet's children and displays an unspoken understanding to Harriet herself while recognising that something is not quite right underneath her cool exterior. The juxtaposition of these two very different lives is handled adroitly by Annika Milisic-Stanley who clearly has a deep understanding of Tajik customs and the lives of expats living in far-flung places.
As it is now, I fill in time and count days. My friends here in Tajikistan understand how an article in a magazine, a song or a sudden craving for an unavailable food can make me weep. They share the frustration of being a travelling wife trapped in a luxurious prison, the loneliness of the forsaken career, no one to converse with all day long but a silent journal or sulky maid.
Milisic-Stanley paints a very grim picture of daily life for Tajiki women through the experience of Nargis who has endured extreme violence at the hands of her second husband. This type of domestic violence seems commonplace in Dushanbe and is excused by the elders and local mullah who claim that 'no one beats a good wife who is obedient' and that a man has the right to beat his wife in accordance with the Quran. The author deals with these issues in a very sensitive way and shows the abusive men for what they are when stripped bare of customs or religion to justify their actions.
The mahalla was full of unemployed, angry men. They sat in groups of frustrated idleness, waiting for work on make-shift benches. Then evening fell and they went home to interfere in domestic decisions, drinking the naan money and hitting their wives in impotent fury.
Through Harriet's journal entries counting down the days to when she can leave Tajikistan, she also spends an inordinate amount of time thinking about Nargis whose strength in the face of adversity she obviously admires. Perhaps it is because she senses at some level that her own marriage is doomed and longs for the courage to start a new life.
Whenever I feel frightened of the future, uncertain of whether I can manage alone, I think of her. What would Nargis not be able to do in Britain? What could she not achieve without tradition and poverty holding her back? Her trials were so much worse than anything I have had to face, yet she prevails.
I became fully immersed in the world of Harriet and Nargis and found their lives as well as the Tajikis who inhabit the story authentic. Beneath the layer of normal life in Dushanbe there is an undercurrent of Islamic extremism, forced migration due to economic reasons and drug smuggling which are very topical issues for the times we live in.
It was beautiful if one ignored the man-made filth..
This was a surprisingly good read and opened my eyes to certain issues. Aside from some of the heavier themes in the book the thing that resonated with me was the sense of being an outsider..
I inhabit an imaginary world where the only people I can relate to are as rootless as me. We belong to a stateless state, an international diaspora, cut off from our origins by the changes that have taken place in our absence, as much as by the relentlessly dull sameness of it all when we return.
The Disobedient Wife is a very strong debut novel by Annika Milisic-Stanley and I look forward to her next book.
Thanks to the publisher Cinnamon Press for sending me a review copy.
Click below to read a free sample of The Disobedient Wife.
---
Do you enjoy reading and talking about books? We are putting together a team of reviewers who are passionate about reading and sharing book reviews. Whether you are experienced in writing reviews, have a GoodReads account, or you just you enjoy reading and recommending books to others, we would love to hear from you!
Each review you write will be shared exclusively on our website for other book lovers to read. The top reviewer in our team who has written the most high-quality reviews will also receive a $100 Amazon gift-voucher and may even lead to a full-time paid book reviewer job.
Go to Book Reviewers Wanted to find out more.