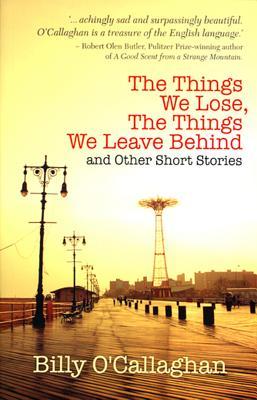 The Things We Lose, The Things We Leave Behind
Fiction, Short Stories
New Island Press
February 18, 2014
Digitial & Paperback
228

Synopsis:
The Things We Lose, the Things We Leave Behind is a new collection by Billy O'Callaghan that explores everyday existence in the aftermath of cataclysms both subtle and overt. The characters who populate these stories are people afflicted by life and circumstance, hauled from some idyll and confronted with such real world problems as divorce, miscarriage, cancer, desertion, bereavement and the disintegration of love.
From the tale of an institutionalised orphan boy in 1950s Ireland sold into servitude as a farm labourer, to the Sevillian matador who in a single misstep has fallen into a life of obscurity, and on through to the poignant title story of a man returning to his island home to see again the child that he abandoned, these are stories about picking up the shattered pieces and finding among them some glint of value, and some way to survive.
In The Second Coming, Yeats wrote: "Things fall apart, the centre cannot hold." Yet here the reader is offered evidence to the contrary, with the suggestion that the human heart boasts extraordinary resilience and is possessed of an ability to find redemption in the most unexpected of places. In the face of tragedy we re-evaluate ourselves. We bear the guilt, sorrow and regret for the things we have lost or given up, we seek the light, and we endure. These thirteen stories attempt to illuminate the darkness.
---
Book Review:
The Things We Lose, The Things We Leave Behind is collection of masterfully written short stories by Billy O'Callaghan. Each of the thirteen stories, while told mostly from the perspective of a middle aged man, are all very different and touch on what some might consider the darker aspects of life such as bereavement, cancer, divorce, longing, mid-life crisis and miscarriage.
Although O'Callaghan's prose is infused with rawness and melancholy he also displays moments of insight and profundity which could only come from the mind of one who has known intimately the heartache and loss experienced by the characters he writes about. Reading about the couple dealing with the loss of a child in 'We're Not Made of Stone', and again in 'Icebergs', was so close to the bone that I literally had to put the book down to process the emotions it brought up.
Read The Hero Returns (related link)
Some people live their whole lives crippled by depression without even knowing it. The signs can be subtle. And we're flesh and blood, you know Maggie. We're not made of stone.
Many might expect with a collection of short stories by an Irish author that they would be set in idyllic surrounds with the ubiquitous rain sodden fields being lashed by gales from the Atlantic Ocean, or claustrophobic towns somewhere in the Midlands. But the stories contained within The Things We Lose, The Things We Leave Behind are set in diverse places such as Taiwan, New York, and Spain giving it a very international flavour as well as wind-swept islands off the West of Ireland.
It is O'Callaghan's way with words and his ability to convey mood as well tone in the story which is his greatest strength as a writer. All throughout the book I came across such writerly gems as..
Lately though, I've been coming to understand that life really might be less about destination than the journey. Keep Ithaca always in your mind. That's a realisation, perhaps even a kind of wisdom, which only comes with time, and may be one of the main reasons why this story took so long to write. In the end, if it amounts to anything at all, it is my attempt to explain and hopefully gain some understanding of who I was at twenty-seven, a wild-eyed child learning to swim amongst the big waves. A stranger, it seems, from the vantage of settled middle-age. Until I look closely.
or this..
Our pasts pool around our ankles, dragging at every forward step we take, but it doesn't do to dwell too deeply on what has gone before, even if we sometimes use those past events to explain or excuse the things we've done. So much has happened to me here, enough to chase me away, enough to call me back.
Usually with collections of short stories there are hits as well as misses. This wasn't the case for me with this book. I was fully drawn into each story but there were a few that stood out such as 'Keep Well to Seaward', 'For Old Times' Sake', 'Icebergs' and the last story which gives its name to the collection. O'Callaghan's work has given me a renewed appreciation for short story as a form. Superlative writing from a master short story writer.
Read a free sample of The Things We Lose, The Things We Leave Behind below..
---
Do you enjoy reading and talking about books? We are putting together a team of reviewers who are passionate about reading and sharing book reviews. Whether you are experienced in writing reviews, have a GoodReads account, or you just you enjoy reading and recommending books to others, we would love to hear from you!
Each review you write will be shared exclusively on our website for other book lovers to read. The top reviewer in our team who has written the most high-quality reviews will also receive a $100 Amazon gift-voucher and may even lead to a full-time paid book reviewer job.
Go to Book Reviewers Wanted to find out more.