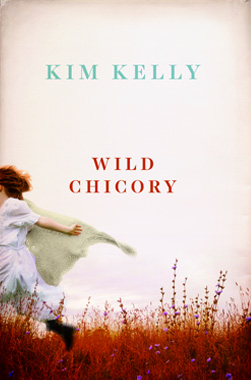 Wild Chicory
Historical Fiction
The Author People
December 17, 2015
Digital & Paperback
120

Synopsis:
Wild Chicory is the story of a journey from Ireland to Australia in the early 1900s, along threads of love, family, war and peace. It's a slice of ordinary life rich in history, folklore and fairy tale, and a portrait of the precious bond between a granddaughter, Brigid, and her grandmother, Nell.
From the windswept, emerald coast of County Kerry, to the slums of Sydney's Surry Hills; and from the bitter sectarian violence of Ulster, to tranquillity of rural New South Wales, Brigid weaves her grandmother's tales into a small but beautiful epic of romance and tragedy, of laughter and the cold reality of loss. It's Nell's tales, tall and true, that spur Brigid to write her own, too.
Ultimately, it's a story of finding your feet in a new land – be that a new country, or a new emotional space – and the wonderful trove of narrative we carry with us wherever we might go.
In many ways Brigid and Nell are Kim and her grandmother Lillian Kelly, and many snippets of story in this work belong especially to them. It is primarily a work of fiction, but while the Kennedys and the O'Halligans in Wild Chicory are not the Kellys and O'Reillys of Kim's own family history, they have sprung direct from her heart, and show readers just how it is she came to be a writer of stories herself.
---
Book Review:
Wild Chicory begins with Brigid, and her grandmother Nell, discussing pipe bread in the kitchen of their 'old and rickety house' in the Sydney suburb of Marrickville in 1976. This humble loaf of bread evokes a series of stories recounted by Grandma Nell to her granddaughter which traces back through their family history. For many Irish people this 'good white bread' is imbued with memory and a sense of occasion not unlike the 'good room' where only guests were allowed into, to drink tea from the 'best crockery' rather than the usual chipped delf and offered the 'good biscuits' instead of the cheap 'Rich Tea' that were to be usually found in cupboards.
Given Ireland's history of emigration to Australia, this story immediately appealed to me but most certainly has universal appeal. It has often been said that there isn't a family anywhere in Ireland who hasn't had someone close to them set sail for distant lands. So many people were forced to go due to economic circumstances while millions left due to persecution or famine. The story of emigration is not only a long one but also an emotional one for so many reasons and so many people. An Irishman sitting in a pub far from home in Sydney can be reduced to tears while listening to the lyrics of a ballad or the mournful words of a seanchai..
I remember the story of how she came to Australia. I can tell it myself today.
The sign of a good story-teller is their ability to evoke strong emotions and there were many occasions throughout Wild Chicory which almost reduced me to tears and filled me with a type of yearning that only an émigré can understand..
As they left the Irish coast from the mouth of the Lee, Dan Kennedy held his small daughter's hand tighter for seeing his green country disappear into the mist and the sea for the last time.
The story sweeps back through a fictional past as well as a historical one. Anyone familiar with Irish history will know that it is often filled with tragedy whose reverberations can still be felt generations later. The bigotry and sectarian violence which has been ongoing since the Battle of the Boyne in 1690 is played out on a smaller scale on the streets of Sydney with rivalry between the Catholic, Kennedy family and Protestant, Upton family..
Catholics, Catholics ring the bell, Protestants, Protestants go to hell!
Thankfully these types of chants are no longer heard on the streets of Sydney but still very much reflect the experience of so many 'new Australians' who were trying to find their way in a sometimes hostile land..
When he heard the name Australia, he knew it only as a place of punishment.
It has often been said that the Irish are great story-tellers. Although Irish-Australian, Kim Kelly is no exception. Story-telling is clearly encoded in her DNA. Her ability to craft an exceptional story is plain to see through her narrative technique. Each story which unfolds is written in a lyrical almost poetical language and laden with meaning and metaphor. Given Wild Chicory is a short novella, the author writes with an economy of words not dissimilar to great short-story writers such as Frank O'Connor and Seán Ó Faoláin whose stories filled my childhood imagination with rich imagery and unforgettable idiomatic expressions.
As someone who grew up in a country renowned for its story-telling tradition I have an inbuilt appreciation for the value of stories. American author, Joan Didion once remarked, we tell each other stories in order to live. Wild Chicory is keeping in this tradition and represents not only the connection to ancestral family but also heritage and its importance in our lives. Like forget-me-nots which grow wild in the fields in Kerry or the wild chicory in the paddocks of New South Wales, we should never forget our traditions and connections to the past..
Before this realisation, chicory had sat in the back of Nell's mind as a sack of rotten, twisted witches' fingers, and now it was something else again. Reborn. Replanted. So life goes; so wisdom grows.
Visit the book page here or click below to read a free sample of Wild Chicory..
---
Do you enjoy reading and talking about books? We are putting together a team of reviewers who are passionate about reading and sharing book reviews. Whether you are experienced in writing reviews, have a GoodReads account, or you just you enjoy reading and recommending books to others, we would love to hear from you!
Each review you write will be shared exclusively on our website for other book lovers to read. The top reviewer in our team who has written the most high-quality reviews will also receive a $100 Amazon gift-voucher and may even lead to a full-time paid book reviewer job.
Go to Book Reviewers Wanted to find out more.